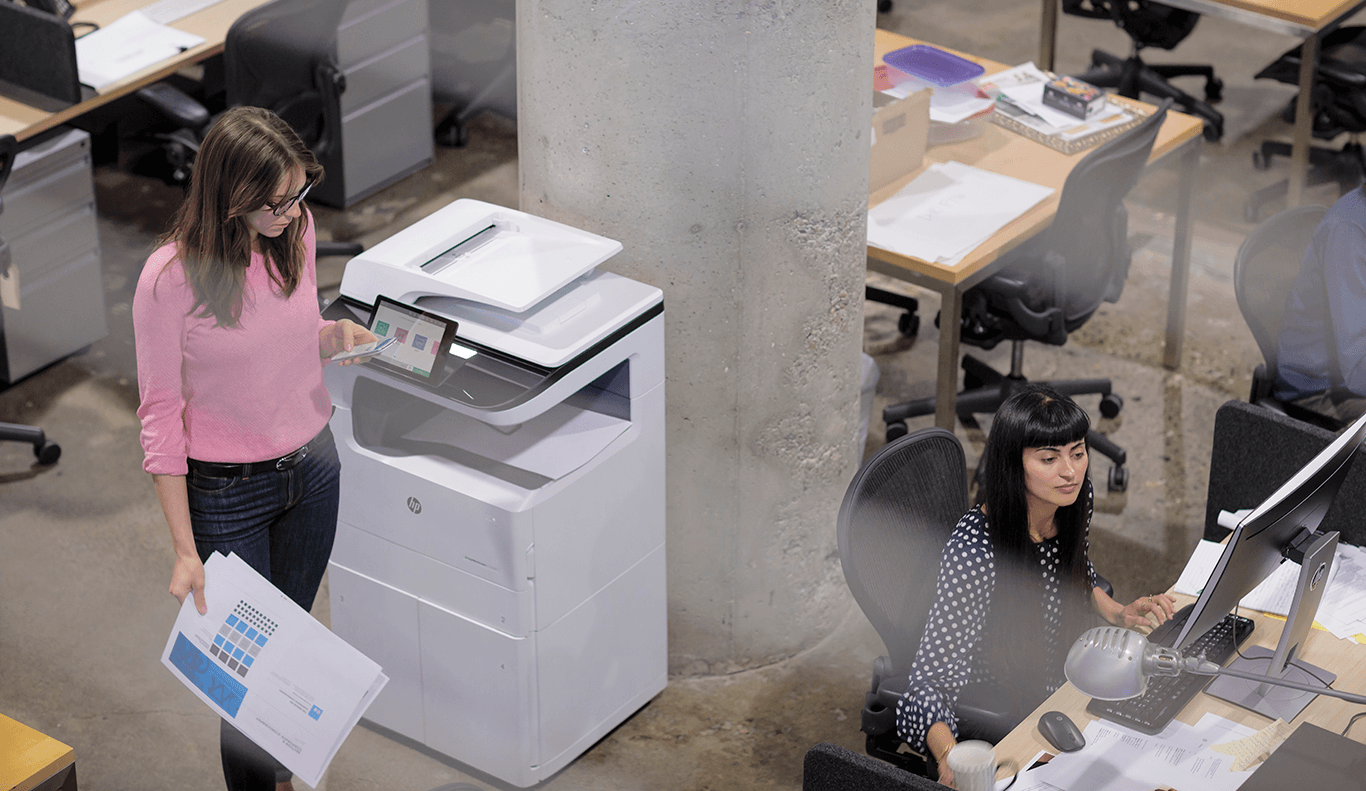 Have you noticed you're replacing your copier's color toner more often? Lately, does it seem like you're refilling the paper trays all the time? Is someone in the office suddenly printing a lot more full-color documents for a new work assignment? Or is someone using the copier for printing lost cat posters, garage sale fliers or maybe dozens of full-color copies of their annual family calendar?
Most office policies allow occasional personal use of the office printer. A Keypoint Intelligence/InfoTrends study from 2016 shows this is a pretty common practice. According to the study, almost 80 percent of office workers occasionally run personal print jobs in the office, with more than a quarter of employees doing it at least once a week. Actually, personal use amounts to roughly 10 percent of all office print jobs.
That said, completely banning all personal use of office printers could lead to adverse effects. The study indicates these include more employees running late or leaving early to print at home, needing to leave mid-day to pick up a print job from a local copy center, increased feelings of guilt from sneaking in a print job here and there and increased anxiety, either because they broke an office policy or can't produce a needed document in time as a result of the policy. Needless to say, no one needs more tardy and anxious workers.
For these reasons, most office managers view occasional personal printing as an employee perk, much like offering coffee in the break room. Sure, go ahead and enjoy a hot beverage every now and then, but don't go taking armfuls of Swiss Miss packets home to feed your late-night chocolate cravings.
The same game goes for printing policies. There is a happy medium where some personal use of the office copy machine is fine. Banning it altogether has unintended consequences that can lower morale, but there are those times when things seem to be getting out of hand. For these times, when toner and paper costs seem to be skyrocketing for no work-related reason, you might wonder, "Is there a way to track who is printing what?"
The answer is, "Yes." You'll need to install a print management software solution on your office printers. We offer the leading solution called PaperCut. These types of print management solutions are designed to optimize the use of printers and multifunction printers (MFPs). It is a great office analytics tool that will help you determine if someone is taking advantage of lenient, worker-friendly printer policies and unintentionally driving up your office printing costs.
We can set up PaperCut and either a badge or password system when we first install your machine. These can also be added to equipment already in use. Regardless of how strict or lenient your printing policy may be, or the size of your business, PaperCut offers you a flexible solution to manage your office printing needs.
PaperCut has been installed on office printers since the 90s and claims to be in use by 50 million end-users in 180 countries, representing about 50,000 organizations. Over the years, they have saved trillions of pages of paper. That's a lot of lost cat pictures and family calendars that didn't get printed.
Saving paper represents more dollars in your pocket as well as something you could add to your marketing strategy. In fact, if being a "green" business and having a lower carbon footprint aligns with your company goals, PaperCut can even track and report savings by CO2 volume or by tree. Add this figure to your brochures or product packaging.
So how does PaperCut make your office more efficient? PaperCut allows you to track print jobs and users, and it lets you set restrictions on who can print on what machine, how much they can print, and even tailor what types of print jobs they can run. This is a great feature because what you need for permissions is probably completely unique to your business. For example, you might have your office copy machine where only your employees can access it. But your neighborhood church might use PaperCut on a machine they allow the public to access. To reduce costs and overuse, they might want to configure PaperCut to enable unlimited black and white prints — as a service to the public — yet restrict full-color print jobs only for authorized users.
Larger enterprises may have a variety of permissions set up on their machines. For example, there could be thousands of printers in a hospital, with hundreds on one floor alone. Some of those machines will be accessible to the public, yet they need to be restricted for only employee use. Other machines might be in exam rooms or in locations where only hospital staff can access them.
With PaperCut, an enterprise can have permissions allowing specific people to print to a machine, or it can be set up so that print jobs are permitted for anyone in your organization to print on any machine, enterprise-wide. So, you could send a print job to the system from your office in Salt Lake City, hop on a plane headed to your Las Vegas office, punch in your access code or scan your badge and have the print job released and run on the machine there. No need to take your presentation notes with you on the flight, where they could get lost along with your luggage.
PaperCut is a flexible solution that can ensure your office printing policies are being followed and your printing expenses are being tracked. You can make it as restricted as necessary or just use it to monitor printing activity and intervene only if you notice unusual behavior.
In other words, with PaperCut installed, you absolutely can determine who is printing what. Once you do, you can ask them to reign it in, just a little, to save some trees, to save you money and maybe save their job. And then you can ask them to leave some hot cocoa for the rest of us.
Get a Demo or Quote on PaperCut Print Control Software