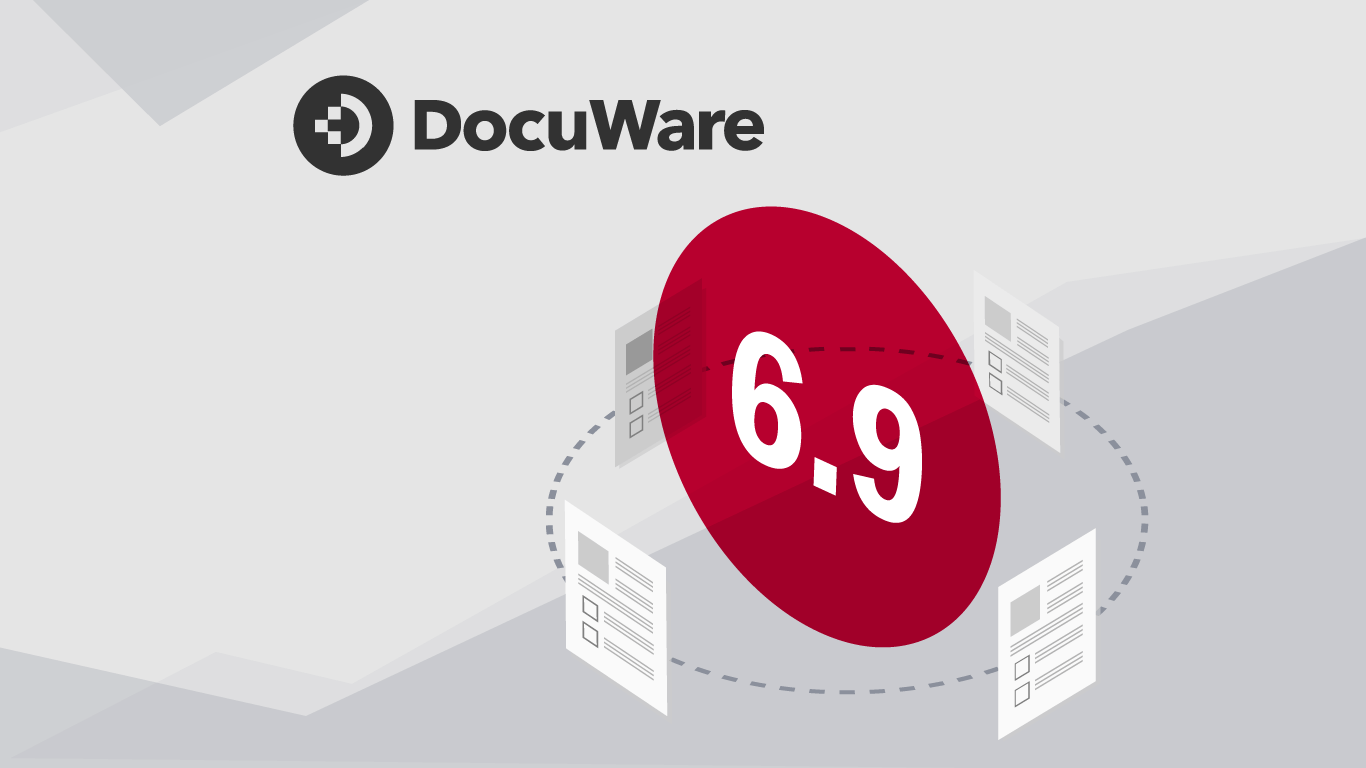 DocuWare has released a new version of their document management software, DocuWare 6.9. Learn what's changed in this outline of the new features included in this software release.
Storing Documents
Import Configurations: Identification
With DocuWare 6.9, Import Configurations can now automatically identify which import configuration should be run. Your ERP system creates different types of documents and stores them in a directory as PDF files. DocuWare can now import files automatically, as it recognizes which import configuration (Invoice, Credit Note, Delivery Note, etc.) should run for each individual document.
A single import folder is sufficient
Faster, easier workflow
Document Preview
Display your scanned documents in a large preview before uploading them.
Quicker scan verification
Easier correction of scanning errors
Filtered External Select Lists
Select lists of local files for external databases can now be filtered. With filtered select lists, typographical errors and duplicate index entries are reduced and the company's database stays consistent.
Faster indexing
Consistent data in the filing cabinet
Leverage data already used within the company
Use index entries and filtering when storing the first document in the file cabinet
Removing Embedded Attachments from Archiving
In Microsoft Outlook, images can be attached to an email as a file or embedded in the message text. Connect to Outlook can generally remove embedded images from storage. This way, irrelevant embedded images such as logos, signatures, and ads can be blocked from being archived.
Only images from the attachment are archived
No irrelevant graphic elements are stored as separate files
Finding and Displaying Documents
Links to Documents or Result Lists
You are now able to get a direct hyperlink to an archived document or search result list with DocuWare 6.9.
Use links when referencing specific documents or result lists
Simple linking between DocuWare and other areas
Maintain the Zoom Factor in Document Preview
If you set a zoom factor for viewing a document, this is automatically saved for the following documents.
Document History Functions
Now settings to show or hide certain functions displayed when viewing a result list will appear in the document history, in addition to the Administration settings.
Display All Document Trays in Windows Explorer
All DocuWare document trays are now also displayed in Windows Explorer. This allows you to copy and move documents easily between the document trays, even in Windows Explorer.
"Open With" Command in Windows Explorer
The "Open With" command for documents, known from Windows, is now also available to you in DocuWare. You will now be able to use it to select the program for opening an archived document.
Workflow
Web Service: Retrieving Several Parameters at Once
When configuring a web service, you can transfer and retrieve several parameters at the same time. This means considerably more information from an external data source.
Use more information in a workflow at the same time
Easier integration in other applications
Keyword Field for Forms
There is a new keyword field in which several text entries can be shown in a list.
Better overview of entries
Easier assignment of several entries at once
Improved support for keyword index fields in a workflow
Form Fields with Read Permission
In forms, fields with write protection can be released for read access only, allowing users to receive more information without being able to change it.
New Variables
New global variables, "Date With Time" and "Decimal Number"
New system variable, "Task User" let's you store the name of the user currently working on the task in DocuWare Client in a workflow.
Default Decision for Workflows
In workflows, you can define a decision as a default, so that the task administrator does not need to select a decision every time.
Access Task Lists in DocuWare Mobile
The new version of DocuWare Mobile lets you edit the Workflow Manager tasks right from your smartphone.
Access your task lists while on the move
The workflow does not come to a standstill at the office if an employee is out
Teamwork
Web Forms for External Users (available with DocuWare Cloud systems)
If you are using DocuWare Cloud you can fill out a Web Form and send it to DocuWare without having your own access to DocuWare.
Easy linking of data from external employees, partners, or customers
Accelerated information flow
Attaching Files to Web Forms
One or several files can be attached when filling out a Web Form. You can easily link receipts or other documents directly with a Web Form.
New Fields for Web Forms
Three other field types are now available with Date, Pre-defined text, and Signature for recording data with a Web Form. Configuring forms is more versatile than ever.
Additional Updates
Modified System Requirements – The PoINT Jukebox Manager is no longer supported.
Upgrade Simulation for Workflow Manager Database – Upgrade simulation is now also available for the database of the Workflow Manager module.
Assign Ports More Easily – The new page "Communication Endpoints" in the wizard replaces eight earlier pages with previously specified ports for servers at various endpoints.
More Functions for the File Cabinet Administration – The "File Cabinets" area in DocuWare configuration has been extended with several functions including:

Creating lists
Enabling version management
Creating new fields
Creating field masks
Predefining indexing
Filtering external select lists
Creating select lists

User Administration in DocuWare Configuration – DocuWare Configuration includes the new User Administration area for setting up small and medium-sized organizations. Up to 200 users can be created and assigned rights for up to 50 roles.
Simplified Functions in DocuWare Administration – The following functions have been simplified:
If you extend your system with a Content Server, you no longer need to assign existing file cabinets to this Content Server. The Content Server is automatically used for every file cabinet, ensuring a balanced load distribution.
Once a select list has been created, you can assign it directly to a field at dialog level.
Usability Improvements – There is now a "First Steps" tutorial to help new customers get to know common functions. The Support & Training area of the DocuWare website can now be called up directly from the main menu and logging into DocuWare is now more convenient.
Optimized Processing of Incorrect Jobs

Manual Retry of Jobs – DocuWare Desktop Apps with retry failed import jobs automatically. It is also possible to restart the task(s) manually with the new button, "Retry Jobs".
Export File Manually – If a document cannot be imported into DocuWare due to an error, you can export it in order to import it into the DocuWare system in another way.

Automatic Activities with Error Output – You can now specify an error path for every automatic activity in Workflow Designer.
No Login Needed for Workflow Designer – Workflow Designer now opens without a login dialog, and you no longer need to log in when you want to edit workflows.