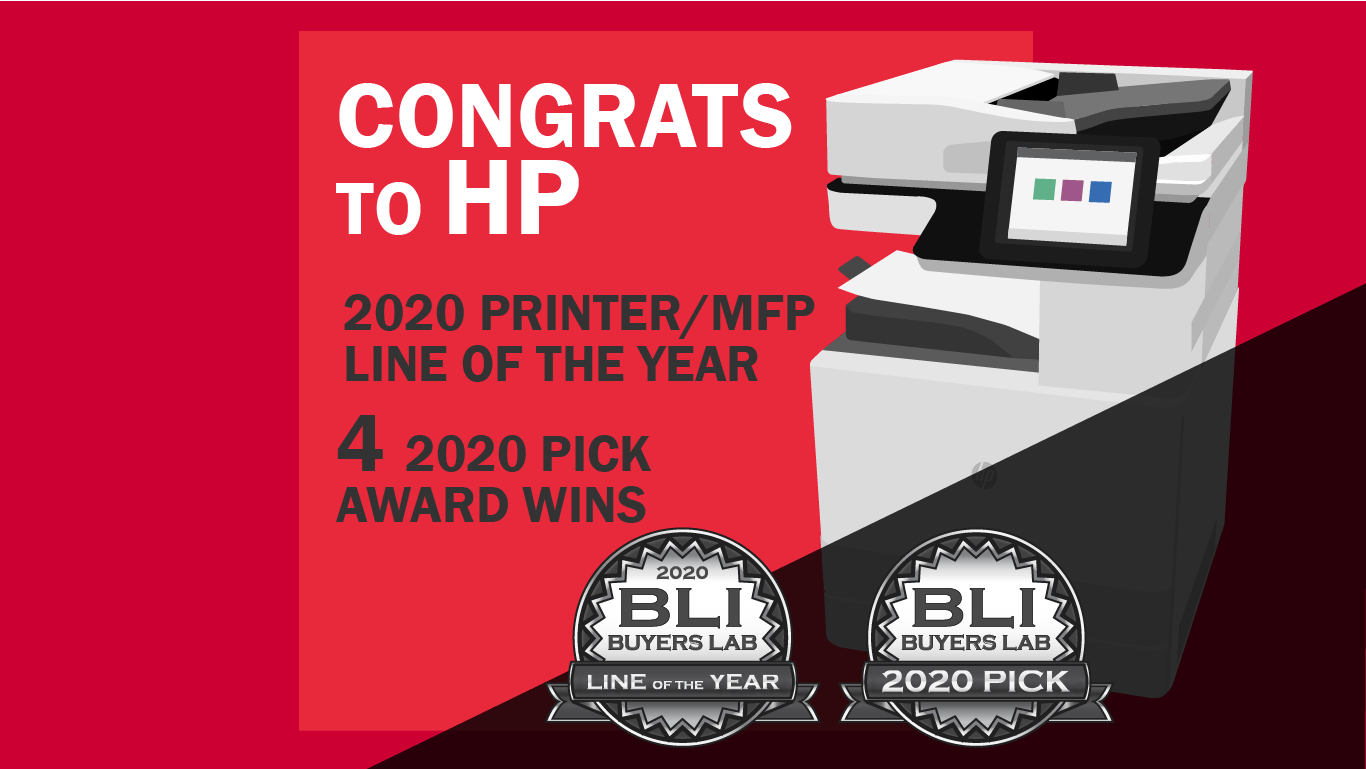 HP was recently recognized with multiple prestigious awards from Buyers Lab (BLI), the leading independent evaluator of document imaging solutions.
HP has won one of BLI's most coveted awards, the 2020 Printer/MFP Line of the Year Award. This annual award recognizes the manufacturer whose product line is determined to be the best overall, based on their rigorous laboratory evaluations. HP was also awarded 2020 Pick Awards on four models.
BLI's Line of the Year Awards recognize manufacturers of hardware or software whose products perform above average throughout their in-depth evaluation. Their analysts and technicians consider a variety of factors across an entire portfolio in determining the Line of the Year winner including; features, value, ease-of-use, and reliability. This marks the eighth time in the last decade that HP has secured a Line of the Year award.
"HP is the winner of our Printer/MFP Line of the Year award thanks to its collection of outstanding models that span an impressive range of categories, from low- to high-volume, both laser and inkjet," said Kaitlin Shaw, Keypoint Intelligence's Senior Editor of Printer/MFP Analysis. "In addition to class-leading reliability, HP MFPs and printers offer impressive user-friendliness, high-quality output, cutting-edge security features, and very good to excellent value propositions. HP's OXP architecture, which is available on its mid to high-volume offerings, makes devices more than just output machines, allowing them to integrate with numerous software solutions that can streamline workflows, boost productivity, and reduce costs. The consistent strength and breadth of HP's portfolio make it stand out above the rest."
In addition to the Line of the Year award, four HP models were recognized with 2020 Printer/MFP Pick Awards. These awards recognize specific models that gave the best performances in Buyers Lab's extensive lab tests. BLI identified these four models for their outstanding performance:
HP Color LaserJet Enterprise M751 Series
Outstanding Color Printer for Mid-Size to Large Workgroups
HP Color LaserJet Pro MFP M479 Series
Outstanding Color MFP for Small Workgroups
HP LaserJet Enterprise M507 Series
Outstanding Printer for Mid-Size Workgroups
HP LaserJet Pro MFP M428 Series
Outstanding MFP for Small Workgroups
We would like to extend our congratulations to HP for their impressive achievements. We are proud to be an Authorized HP Partner, offering their quality line of printers and MFPs.
Get a Demo or Quote on an Award-winning HP Printer