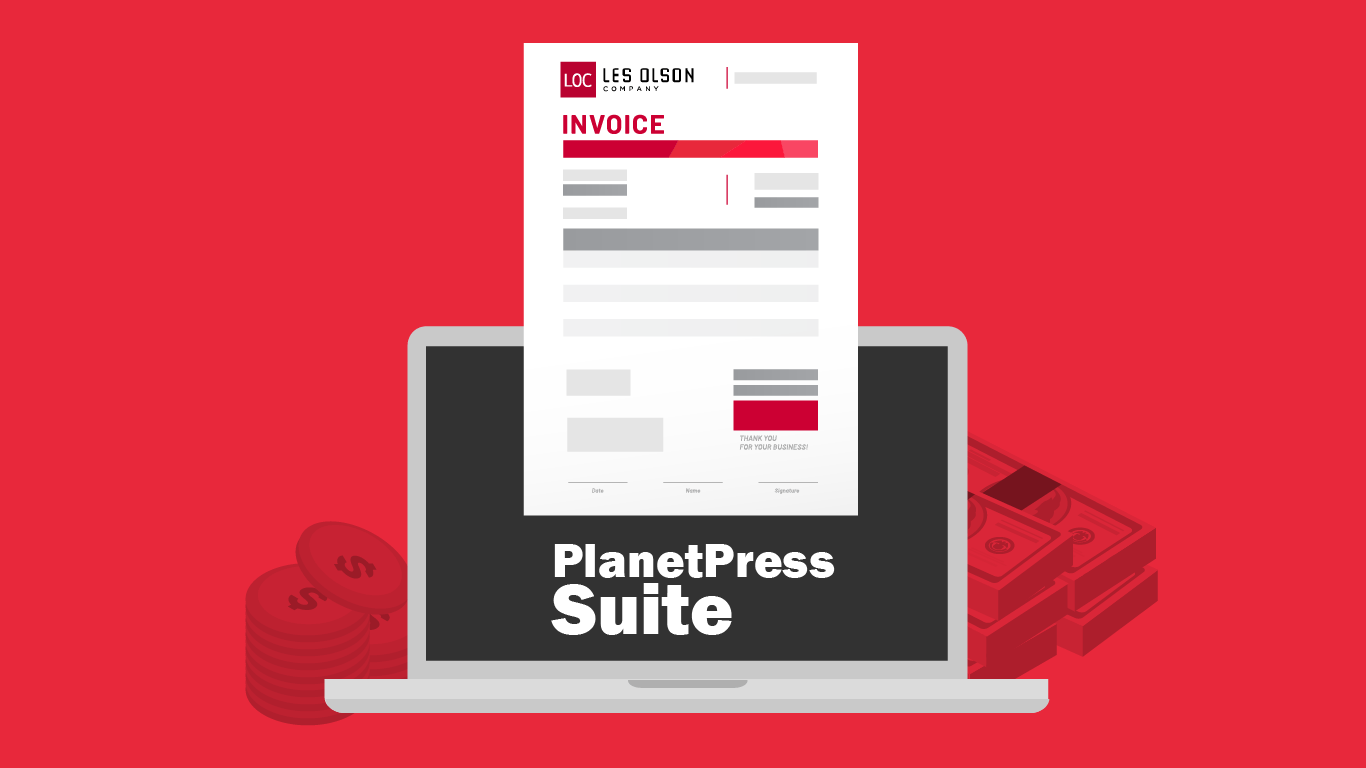 Think for a moment about all of the documents you get on a daily basis from different companies, whether it's your internet provider or your doctor. The creation and distribution of documents is a big part of running a business. Creating documents that are easy for your customers and clients to follow is vital to your success.
Well-designed documents not only effectively communicate your message, but improve a customer's perception of your company. After all, don't we all strive for the professional appearance that says to our customers "We know what we're doing, you can trust us."
In our own business, we offer many document solutions and believe in their quality because we use them in our own day-to-day operations. One solution in particular, PlanetPress Suite, has really saved us large amounts of time and money.
So how exactly did PlanetPress Suite benefit Les Olson company?
Before PlanetPress:
We were spending large amounts of money on pre-printed materials including statements, sales orders, lease documents, checks, payroll documents, purchase orders, maintenance contracts and much more.
Each month we would print and cut mailer ads, and manually stuff them into each piece of mail that went out to our customers.
Any time we updated our logo or branding, we had to discontinue use of our expensive pre-printed materials, and order new ones.
We had little control over the format of our business documents and little flexibility to make changes as needed.
After PlanetPress:
We were able to stop ordering pre-printed materials including letterhead for statements, sales orders and much more, which saved us substantial money. This was helpful to us because we had less money tied up in printing expenses, so we were able to invest it in other areas of the business.
Instead of using large amounts of toner and time printing, cutting and stuffing mailers into our letters – we are able to create targeted, personalized messages and embed them directly into the body our invoices and statements. Now mail gets done faster and our message appears where our customers are most likely to see them, rather than on a separate sheet.
Recently we underwent a logo change and an update to our branding. It was very easy to change out the logo in our design files through PlanetPress, and since we didn't have any pre-printed documents, we didn't have to waste money disposing of outdated materials.
With PlanetPress we were able to take data from various sources and organize it the way we needed it, in a single, easy-to-follow document. PlanetPress also integrated very well with our internal accounting and document management systems.
We use it for almost everything:
Invoices

Statements

Sales Orders

Lease Documents

Checks

Payroll Documents

Purchase Orders

Maintenance Contracts
Get a Demo or Quote on PlanetPress Suite