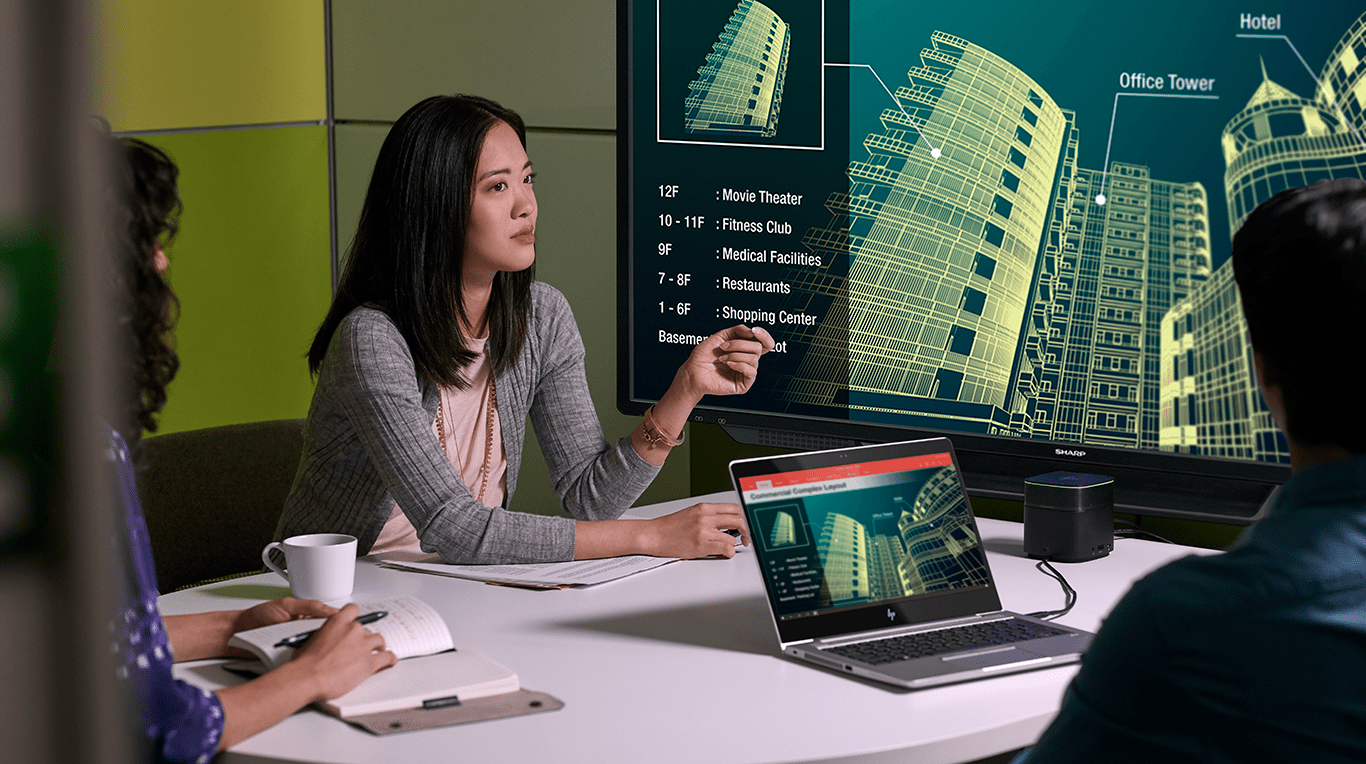 Sharp Electronics has recently released a new 80″ Sharp Aquos Board model (PN-L803C), an advanced interactive presentation system with touch-screen and annotation capabilities.
The Sharp Aquos Board Interactive Display Systems are designed for smooth and effortless communication in a wide range of applications. Their highly-responsive touch pens allow several people to make annotations on the same screen at the same time. The Sharp Aquos Board helps you make a bigger impact with your meetings and presentations. From the conference room to the classroom, a Sharp touch-screen interactive display system can magnify your presentation success. Motivate your audience, improve your image and give your message the impact it deserves.
FEATURES & FUNCTIONALITY
Simultaneous Writing
The PN-L803C display lets you capture ideas at the moment of creation. Recognizing up to 10 touch points, it allows up to four people to write at the same time with a finger or touch pen. Each pen boasts a thin, 3.5 mm tip that makes it easier to add detailed notes that remain legible when printed out.
Featherlight Touch for Precise and Smooth Operation
Say goodbye to unintended input and writing errors. Thanks to the display's precise position detection, only intentional input from fingers and touch pens appears on the screen. Employing Sharp's original capacitive touch technology, which achieves high sensitivity and precision by reducing the noise level to one-eighth that of conventional models, the PN-L803C display eliminates unwanted noise to deliver a clear onscreen signal.
User-friendly Sharp Pen Software
The new touch pen links with Sharp Pen Software to help you write with an uninterrupted flow. You can also use the included eraser to delete unwanted content without switching functions, just as you would with a traditional whiteboard.
In overlay mode, you can write onscreen annotations directly onto photos, documents, web pages and more. Text and graphics written on the board can be stored in USB memory or sent directly via email to selected recipients.
The handwriting recognition function that converts selected onscreen handwriting into standard, editable text. It can also automatically recognize and reproduce hand-drawn shapes such as circles, triangles and squares. This convenient function makes it easy to utilize onscreen content to make a legible record of your meeting or lesson.
Sharp Pen Software also links smoothly with the PowerPoint application. During slideshow presentations, you can perform various control operations, such as returning to a previous slide without using a right-click.
Work Smarter with Touch Display Link 2.0
Touch Display Link 2.0 software supports effective and multifaceted communication. Onscreen content — including handwritten notes and drawings — can be viewed simultaneously on the thew Sharp Aquos Board models as wells as mobile devices such as PCs, tablets and smartphones. Touch Display Link 2.0 facilitates interactive presentations, lively discussions, and paperless meetings in both business and educational settings.
Touch Display Link 2.0 enables the following interactive functions on the new Sharp Aquos Board models and on mobile devices connected via wireless LAN:
Sharing of onscreen content
Transfer of files
Interactive onscreen writing and drawing
Remote control of the board from mobile devices
Connect up to 50 mobile devices simultaneously
Files can be transferred between mobile devices even if they are not connected to the PN-L803C display
Capture onscreen images and save them to mobile devices
Connect two Aquos Board displays on the same network for larger-scale communications
Front-facing USB Port
For increased convenience when the panel is mounted on a wall, the PN-L803C display features a USB input on the front that connects to the PC on the back of the unit. Now there's no need to reach around to the back of the monitor when you want to connect a peripheral device.
Large Touchscreen with Full-HD Quality
The full HD resolution of this large monitor ensures that detailed text and images are displayed vividly and accurately. Charts, paintings, historical photos and more are all brought to life on the big screen in a way that simply can't be achieved with normal textbooks and printed materials. Even in bright rooms, text and images are displayed beautifully, so that everyone can stay focused on the discussion.
Sharp Touch Viewer
Sharp Touch Viewer is a touch-operated onscreen user interface that lets you easily manipulate different types of files, including Microsoft Office applications, videos and web pages. Being able to simultaneously open and handle a variety of file types allows you to have more active meetings and presentations.
Other Great Features
Multiple displays can be wall mounted together
Thin & lightweight
Built-in speakers
Anti-glare film
Supports web-cam installation
MFP Connectivity
Variety of input/output terminals
Les Olson Company is proud to be an authorized Sharp dealer.
Get a Demo or Quote on a Sharp Aquos Board from Les Olson Company