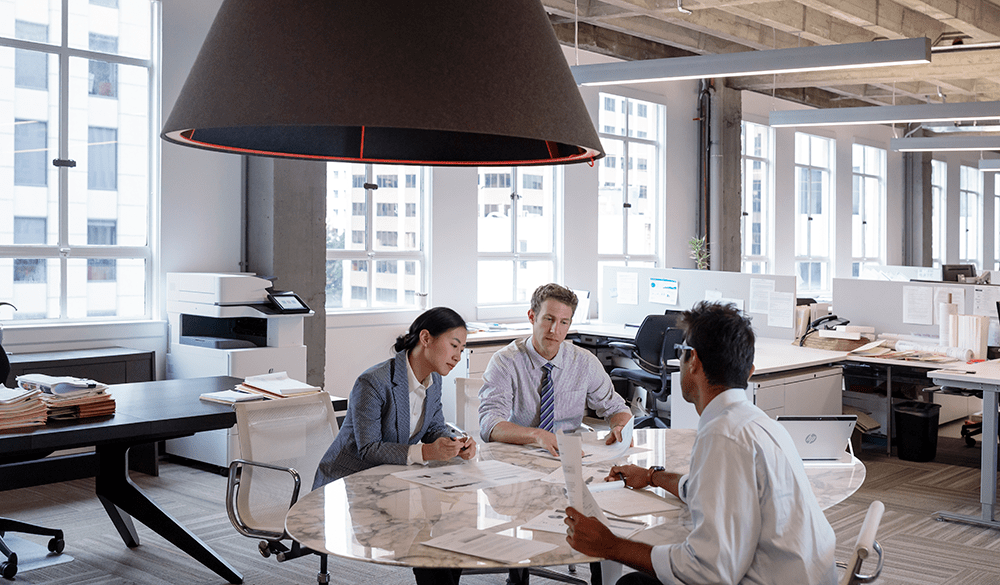 The technology that is used in your office is integral to your ability to get the job done. As office equipment becomes more efficient, it is essential in this competitive world to get the most out of your office technology. With help from Les Olson Company you can be assured that you are investing in cutting-edge solutions that will help you do more.
Organizations are relying on technology in the workplace at an ever increasing pace. As such, it is now more critical than ever to not only have an office equipment supplier, but a partner that will support you long after the sale is made. Banging your head on your desk is probably not listed in your job description, right? 
We've all been there.
You need to print a crucial document or product brochures for a sales meeting, only to find out that your printer in out of commission. What now?
Not only is it extremely frustrating when office equipment goes down or does not work properly, but it also can slow your work to a halt and bring your office to a standstill. We understand that you need as little downtime as possible, which is why all of our service technicians are factory-trained and certified. That means when we repair your device it will be done right the first time by a technician committed to your business needs. In addition, Les Olson Company is a Sharp Platinum Service Provider, demonstrating the highest level excellence in copier service.
Each of our nine locations offers a warehouse that is well-stocked with parts, supplies, toners, ink cartridges and paper. In addition, we'll bring your supplies to you! We offer free supply delivery across the Wasatch Front as well as in Central Utah, Southern Utah and Las Vegas, to keep your devices supplied and running smoothly.
Les Olson Company is here to help your business with all of its diverse technology needs. We take our customers' satisfaction very seriously and commit to providing outstanding customer service. When you call Les Olson Company, you will be greeted by a live person dedicated to superior customer care and experts that can provide assistance specific to your unique needs.
What features and functions do you need in your office technology?
We know that technology is always changing. New advanced features and breakthroughs are being engineered every day. As these advanced functions are implemented into office technology, it can be hard to know which functions and features your organization will need. When you partner with Les Olson Company, we take the time to learn about your business and processes. This goes above and beyond print volumes, color vs monochrome requirements, or finisher needs.  We try to understand what is being produced as well as the why. Being able to define customers' needs and workflow allows our dedicated experts to place the right technology with the right functionality into your unique environment. We strive to give our customers everything they need to do what they do best.
Whatever your needs are, Les Olson Company can help your organization! We offer a robust product line of state-of-the-art technology including; small document imaging products, multi-function copiers, wide format printers, digital presentation systems, network servers, document workflow solutions, business computers, data security & backup and I.T. services.
Getting to know your new technology.
When your equipment is installed, our experts will ensure that users are fully trained to maximize the full potential of their equipment.  If new users are added or you need a refresher during the life of the machine, let us know! We'll be more than happy to assist.
As your office technology partner, Les Olson Company is here to help you get the most out of your office technology. No matter what your needs may be, please feel free to contact us and let us show you how we can help!