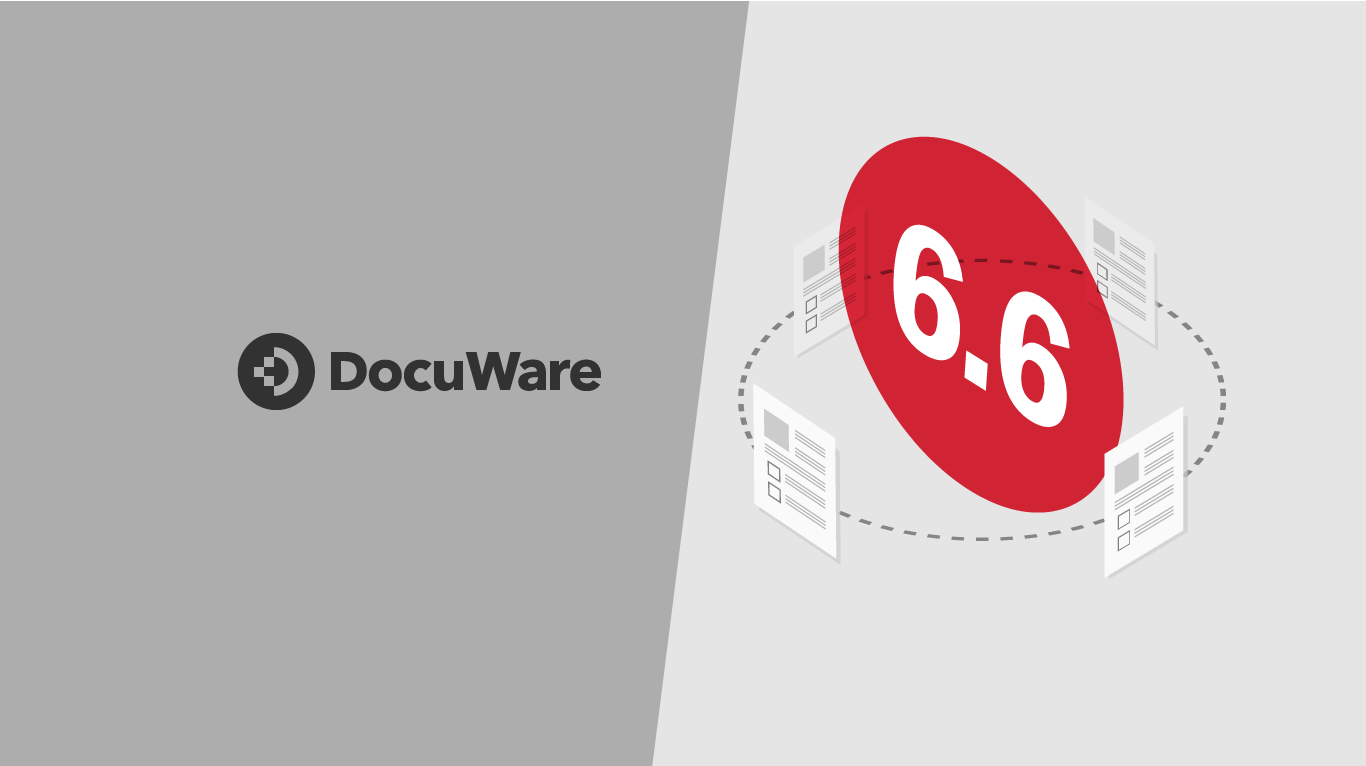 DocuWare recently announced the latest update to their Document Management Software, DocuWare 6.6. This newest release includes new features that make this useful software even more intuitive. What's new?
Here are some of our favorite new features in DocuWare 6.6
RECENT SEARCHES
Automatic storage of the last five search queries. Quickly find documents you've recently searched for in the filed cabinet with the Recent Searches feature.
Benefits

Easier to find the documents you're looking for
No need run another search for an item you've recently pulled
STORAGE OF SEARCH QUERIES AS TASK LISTS ON THE DESKTOP
This new feature requires Task Manager License. It creates a desktop shortcut to all of your tasks in DocuWare. Individual searches can now be saved so that they are easily available to you – whether you wish to create a list in DocuWare, save a link on the desktop, or simply store the search as a favorite in the browser. In each case, it only takes one click to access the desired documents. This saves you from having to constantly enter the same search terms. It is also practical to save the search if the documents that you need to process can always be identified using specific index words.
Benefits
Documents to be edited quickly in this view
Easier to access frequently required documents
Create individual document lists yourself
Note: To be sure that you are always working with the valid versions, do not save documents locally – always run a search.
NEW FEATURES FOR LISTS
Counter for currently listed documents
Color coding for new documents entered into the system
OPTIMIZED STAMPS
Documents in lists will now automatically display the next document after you finish stamping the previous document, allowing you to quickly stamp and approve a series of documents for maximum workflow efficiency.
COPY TEXT INTO CLIPBOARD
DocuWare OCR's each document stored. Now when you view documents, you can copy and paste the recognized text to the clipboard to be used in other external applications or export it to a CSV file.
DOCUWARE IMPORT
DocuWare Import now supports 3rd-party scanning XML imports. This new enhancement allows DocuWare users to use their existing front-end scanning software (such as Kofax, Drivve Image, or Fujitsu Paperstream software) to scan and automatically index documents for DocuWare. You can now import documents from external applications so that the indexing data is supplied with the documents as XML files in DocuWare Control format. Requires DocuWare Import.
Benefits
Allows your scan service provider to supply you with the files of your scanned documents AND the associated indexing data
You can import documents from other applications, e.g. your ERP.
Faster storage of documents
Effortless indexing
NEW CONNECT TO OUTLOOK INTERFACE
DocuWare
 6.6 includes a new interface for Connect to Outlook for an improved user experience. This applies only to users with the Connect to Mail or Connect to Outlook Module. Emails from Google Mail and Microsoft Exchange can be archived in DocuWare in either their original EML format or as a PDF.
Note: If emails are saved in original format EML, they do not have to be converted. This makes archiving much faster on the one hand and, on the other hand, excludes errors in displaying the converted email.
Benefits
Original emails are archived faster, as there's no need for conversion
Original view of the archived email is retained
New updated user interface within Outlook makes storage and various storage profiles easier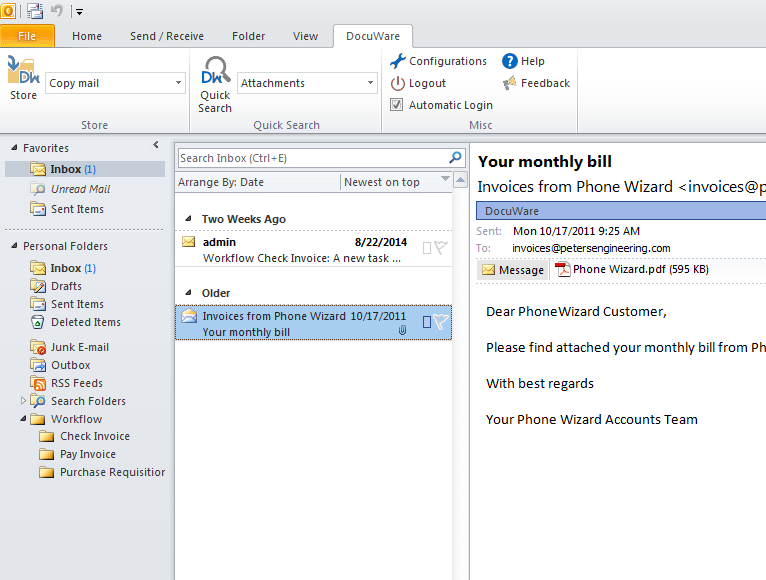 INTELLIGENT INDEXING
Intelligent Indexing Service can now be activated and configured centrally in DocuWare Configuration. This makes system administration easier when working with the intelligent indexing module. This new feature only applies to users with Intelligent Indexing Service.
CLIP OR STORE
Intuitively move a document from the document tray to attach to a document in the result or task list using the new drag & drop function. For example – if you want to append the delivery note to an invoice that has already been archived, first scan the delivery note into your document tray. In the second working area in DocuWare, open a result list that contains the invoice. Now simply drag and drop the delivery note to the corresponding invoice. If needed, you can then adapt the order in which the documents are attached. Similarly, you can staple the associated delivery note to an account payable received as a workflow task.
CONFIGURE IMPORT OR PRINTER RIGHT FROM DOCUMENT
Directly initiate an import or printer configuration from a document in the document tray. You can also use the corresponding document as an example document for the configuration. Note: The selected document must be accessed in the document tray by DocuWare Printer, or using the DocuWare Import or Scan app.
FREE SCAN APP
DocuWare's free scan app, PaperScan, is now also available for Android devices. This handy app allows you to scan your invoices, documents, receipts and any other pieces of paper. Once scanned, you can then upload them to Dropbox, Google Drive or DocuWare and easily share them with others. PaperScan is useful for easily reporting expenses. For example – You can scan your hotel invoices directly after checking out and load the document to your Accounting basket. This, of course, requires you to be connected to DocuWare.
PaperScan uses the advanced processing power found in the latest, top-of-the-range Android devices to trigger our unique automatic scan feature. We are working hard to support further powerful devices in future releases.
Benefits:
Scans documents automatically
Automatically crops and straightens the captured document
Puts several scans in a document together
Scans are exported as PDF
Upload to Dropbox and GoogleDrive in batch mode
Documents can be printed or sent per email
Upload to Docuware
Rename documents
Improved edge detection when capturing manually
Delete pages with swipe and undo if necessary