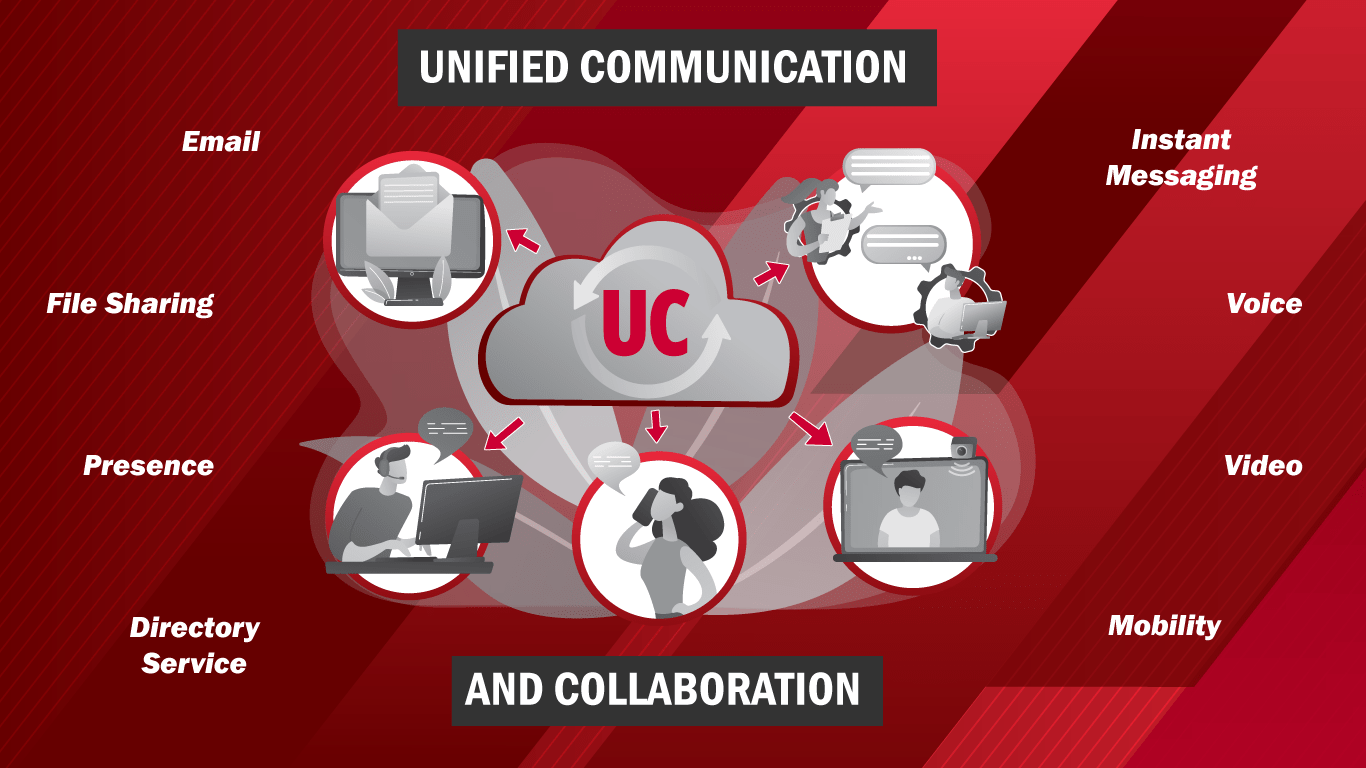 What is poor communication costing your company?
These days we have many modern methods of communication, including instant messaging, email, and phone systems. What if we could combine them into one manageable platform? Unified Communications & Collaboration (UC&C) is built to enable office workers to help customers while reducing issues for IT teams.
In today's fast-paced, ever-changing world of technology, it is important to create a workplace that offers 1-great customer service, 2-supports growth and captivates new talent, and 3- engages current employees, all while integrating business processes. It is estimated that nearly 86% of customers would pay 20% more for an excellent experience. Due to the connectivity in this modern age, much of your customer experience will fall on the shoulders of your IT staff.
Combine all this with demand for faster ROI, increased efficiency, and better productivity to better achieve results. It can be challenging to get the right solution to fit your business needs. So what is best? Cloud, on-premise, a little of both? How do you choose? Can Unified Communications and collaboration really ease IT frustrations, such as integration and security, while remaining welcoming and uncomplicated? The answer is yes. In this article, we will explore the top 6 benefits of Unified Communications & Collaboration and how they can change the way your business communicates.
1 – It Promotes Collaboration
With UC&C everything can have interoperability. Communications such as text, chat, voice, and social media can be found in one spot. Data doesn't need to be transferred from one program to another. This makes it easier to boost an overall customer experience.
2 – Cost of Operating goes down
A UC&C solves a couple of inefficiencies that help costs to go down. First of all, the licensing costs with one solution to cover all areas of communication efficiency. This means you can do away with paying excessive licensing fees. Secondly, businesses can save time and money because they need to travel less. Reliable and quick communication methods allow for fewer interruptions. Lastly, the IT costs will be reduced and downtime will be held at a minimum.
3 – It Guides Inspiration
When you have multiple people sharing ideas and expertise to create something inspiring you need a Unified Communications & Collaboration Solution to light the way to innovation. Unified Communications & Collaboration provides real-time connections with colleagues, suppliers, and partners so you easily share ideas, all while keeping things mobile and moving.
4 – It Encourages Stronger Working Partnerships
Collaboration amongst colleagues almost always leads to greater results than working in isolation. The better relationships staff have, the stronger the team is and the easier it is to achieve a higher standard of work. Unified Communications & Collaboration creates an environment to coordinate, and allows for others to know status, availability, and presence at any given moment in order to strengthen communication between coworkers…wherever they might be.
5 – It Takes Productivity to the next level
15% of work time is wasted by improper communication. Unified Communications and Collaboration allows for flexibility with an anytime, anyplace mentality and a more personable approach. This helps raise company morale and boost performance making it a win/win. One example of this would be that of instant messaging which allows colleagues to send quick and informal messages like "In a Meeting", or "Call you back soon".
6 – It Boosts the customer Experience
One of the most important things for a business today is the customer experience. One of the most important factors that helps a business gain its competitive edge is providing a great customer experience. Many businesses have an increase in revenue after merely improving the customer experience. With all the competition, businesses cannot afford unhappy customers as they will take their money elsewhere. Let Unified Communications & Collaboration step in and take your customer relations to the next level with the impressive ability to keep records of every single customer communication.
Plus Unified Communications and Collaboration offers smart solutions such as Chatbot for 24/7 contact, and desktop phones that can redirect to a mobile phone, so you never miss a call, even when you're not at your desk.
Let Les Olson Company help you to choose which solution can help you reach all your goals. Get a Unified Communications & Collaboration solution that adapts to your network seamlessly and can be customized for flexible integration with your specific processes. Boost your business productivity and lower your communication costs today.