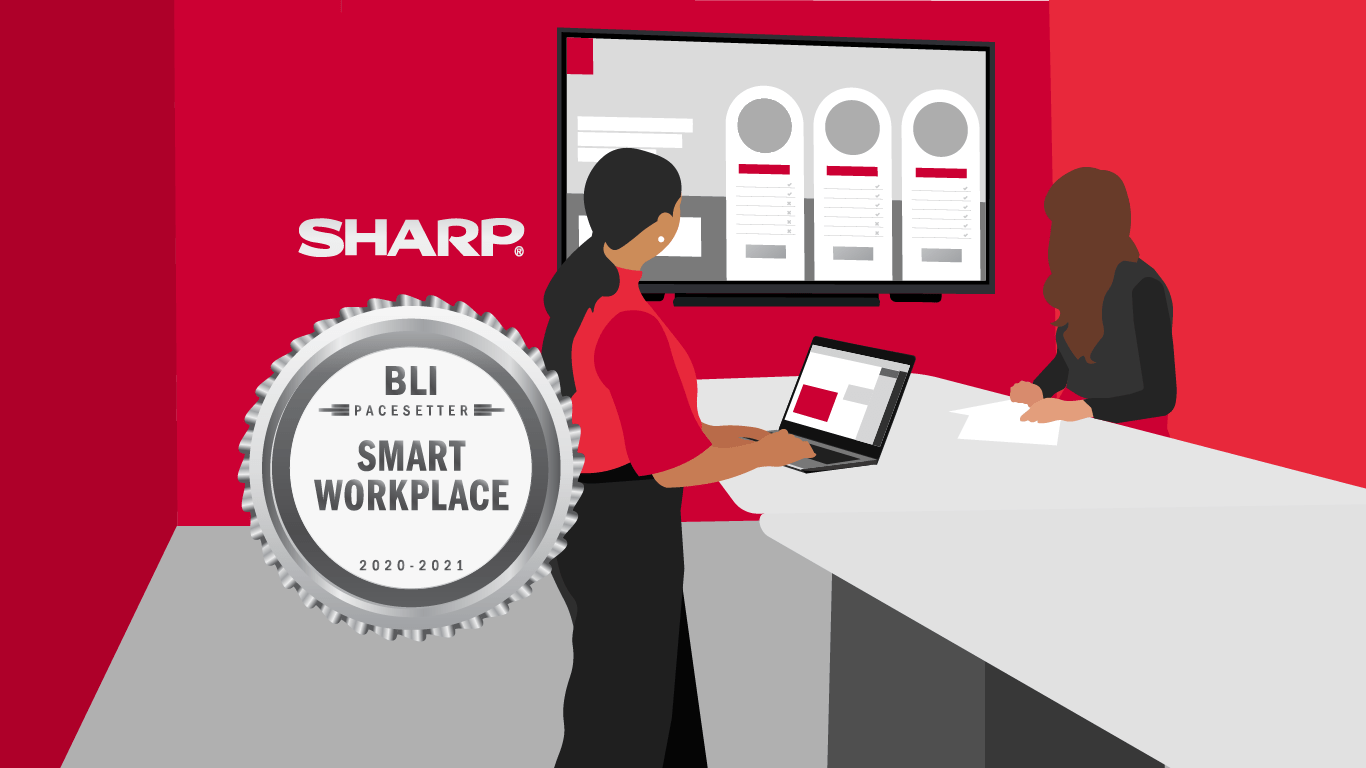 We would like to congratulate our partner, Sharp Imaging and Information Company of America, who recently announced that it has earned a BLI (Buyers Lab) 2020-2021 Pacesetter Award in the category of Smart Workplace Collaboration Systems. This award is highly sought after as Buyers Lab is the world's leading independent evaluator of document imaging and smart workplace business products.
BLI's analysts conducted an in-depth study to determine the OEMs with the most comprehensive hardware, software, and services offerings for enabling collaboration in the office and beyond. They assessed two dozen points across categories, including: company vision, current offerings, channel approach, go-to-market strategy and industry partnerships.
We're not surprised that Sharp received the Pacesetter award because of their commitment to office collaboration. Sharp's new Synappx family of smart office collaboration applications help address the increased expectation of secure accessibility, ease of use and mobility of today's workforce. In addition, they offer a versatile AQUOS BOARD family of interactive smart screens that make presentations more collaborative and engaging. Those aren't Sharp's only contributions to the smart office landscape, but are among those specifically considered by Buyers Lab while making their decision.
"It's an honor to be recognized as a leader in the smart workplace and collaboration systems," said Vince Jannelli, Associate Vice President, Software Product Management, Sharp Imaging and Information Company of America. "Our customers are constantly looking for better ways to collaborate and drive information sharing within their companies. With our Synappx family of solutions, and the Windows collaboration display from Sharp, we are committed to simplifying collaboration and connectivity around the workplace."
"Sharp impressed our analysts with its successful implementation of varied technologies to help the smart workplace evolve," said Jamie Bsales, Director of Solutions/Security Analysis at Keypoint Intelligence. "The work they are doing is critical in helping foment a more collaborative work environment where end users are less focused about getting the technology right to start a meeting, and more on actually working with their own clients."
Sharp continues to make us proud to be an authorized Sharp dealer, and Utah's only authorized Sharp dealer. We offer their line of cutting-edge copiers, printers, presentation boards, Synappx applications, and more. We're also a Sharp Platinum Service provider, with 9 locations to serve you.
SOURCE Sharp Electronics Corporation USA