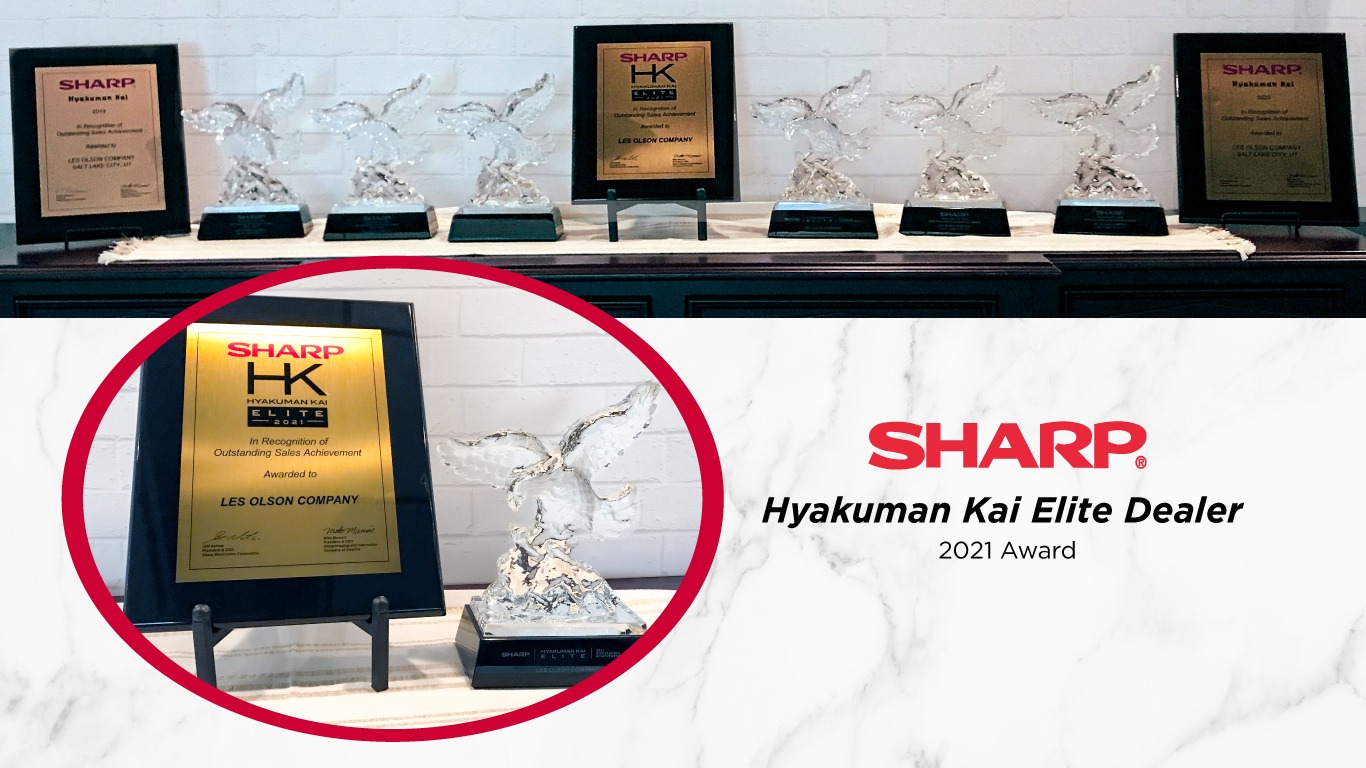 Les Olson IT  has been named a Hyakuman Kai Elite Dealer annually for the last 25+ years.  Sharp Imaging and Information Company of America awards Hyakuman Kai status to only a select group of outstanding dealers. A company with Hyakuman Kai Elite Dealer status demonstrates these fine qualities:
Long-lasting community relationships through outstanding local customer service
Secure and innovative business practices
Hard work and dedication to Sharps brand / and vision
$1 million or more in sales for 2021
"Les Olson IT offers world-class products and services to Utah and Las Vegas businesses, encouraging business growth in the community," says James Olson, CEO of Les Olson IT. "We are delighted to be a Sharp dealer and are looking forward to improving our relationships with our customers by supplying them with the most up-to-date technology and comprehensive solutions in the business world. Thanks to Sharp, we can serve you with excellence because of their unbending partnership of commitment and support."
About Les Olson IT
For over 65 years, Les Olson IT has provided local organizations with innovative business technology. A wide range of quality products, from multifunction copiers to document management software, network solutions, security systems, and more are offered by Les Olson IT, which operates nine locations from Logan to Las Vegas. In addition, they provide comprehensive IT services and printer fleet management through Managed Print Services and Managed Network Services.
Les Olson IT's goal is to help their customers reach new levels of efficiency, not only by providing great business solutions but also by providing outstanding service and support on everything they offer to minimize downtime and maximize productivity.  Les Olson IT is a Sharp Platinum Service Provider as well as an HP ServiceOne Expert Partner.
About Sharp Imaging and Information Company of America
Multifunction printers (MFPs) from Sharp Imaging and Information Company of America help businesses manage workflow efficiently and increase productivity. With Sharp MFPs, users can create personalized MFPs by seamlessly integrating network applications. Scan2 technology enhances scanning reliability and preserves document integrity through two-sided scanning in one pass. A leader in security in the MFP industry, Sharp protects documents from unauthorized users.
Sharp's professional and commercial displays are designed specifically for business applications and are available in a variety of sizes and features. Sharp commercial and professional displays help you communicate, collaborate, and disseminate information brilliantly with high-impact digital signage displays, ultra-narrow bezel video walls, and award-winning AQUOS BOARD® interactive displays.
Visit siica.sharpusa.com for online product information.