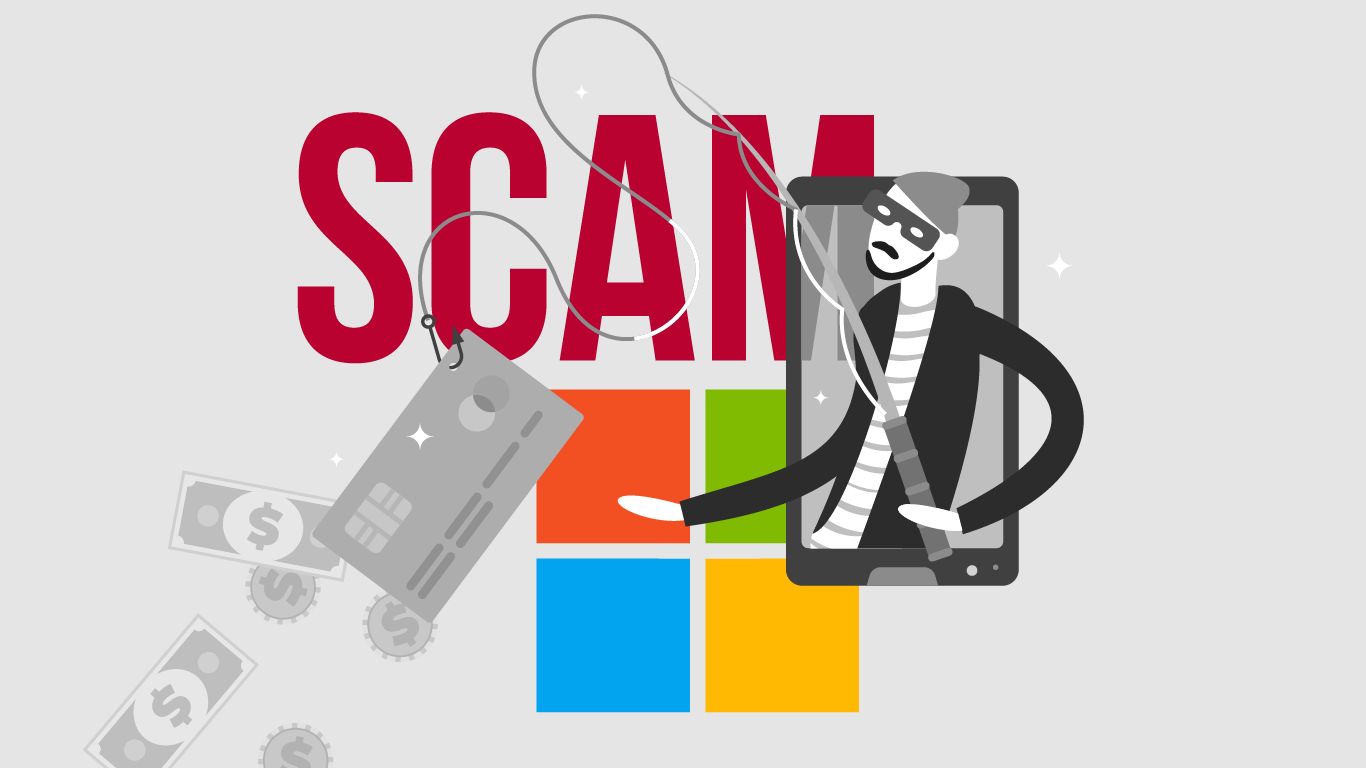 Recently, Microsoft "Tech Support" Phone Scams have been carried out even more frequently than usual. You may get a phone call from someone claiming to be a Microsoft Support Technician. Be prepared so you can protect yourself and your business from becoming the prey of scammers.
HOW THE SCAM WORKS
Someone claiming to be a support technician with Microsoft (or another tech company) will call your office or even your personal phone to let you know that your computer has "registered a problem" and they can help you fix it.
They will then attempt to persuade you to download software that will allow them to gain remote access to your computer or direct you to fraudulent sites with the promise of "fixing your computer." While there are legitimate remote help sites used by honest technicians, installing such applications at the request of a stranger claiming to be a technical support technician can result in your computer being compromised.
Many times they will try to get you to provide them with usernames, passwords, credit card numbers or other personal information. They may even request card information so they can "bill" you for their phony services. Some scammers can be quite convincing and seem very knowledgeable about your business.
THE FIRST THING YOU SHOULD KNOW
While many companies including Microsoft and Les Olson Company do offer technical support services – they will NEVER make unsolicited phone calls to ask for money in exchange for computer security or software fixes.
SO YOU SUSPECT YOU'RE TALKING TO A SCAMMER, WHAT NOW?
If you believe that you're speaking with a scam artist, the best advice is to hang up. While it is best not to engage at all with the scammer, if you find yourself talking with them for any length of time DO NOT give them any information or agree to pay for any software or services. If possible, take down their name and phone number and submit a complaint to the Federal Trade Commission. Complaints help them detect patterns of fraud and abuse. If you receive one of these calls at your office, be sure to let your network administrator know.
Scammers can be very persistent. People have been known to give in to their requests out of sheer exhaustion. No matter how many times they call, they never comply with their instructions.
WHAT IF YOU ALREADY GAVE THEM INFORMATION?
If you think you may have already given a scammer access to your computer or information, it's important to change your computer's password, the password to your email account and especially passwords for your financial accounts such as your bank or credit card company. If you think they may have gained access to a work computer, let your network administrator know immediately so they can quickly address the breach. Don't let embarrassment keep you from telling someone as quickly as possible.
YOUR BEST LINE OF DEFENSE
Your best line of defense is keeping all computer users, whether at home or in your business, informed about this scam. Make sure they know how to recognize this scam and what to do in the event of a fishy phone call.