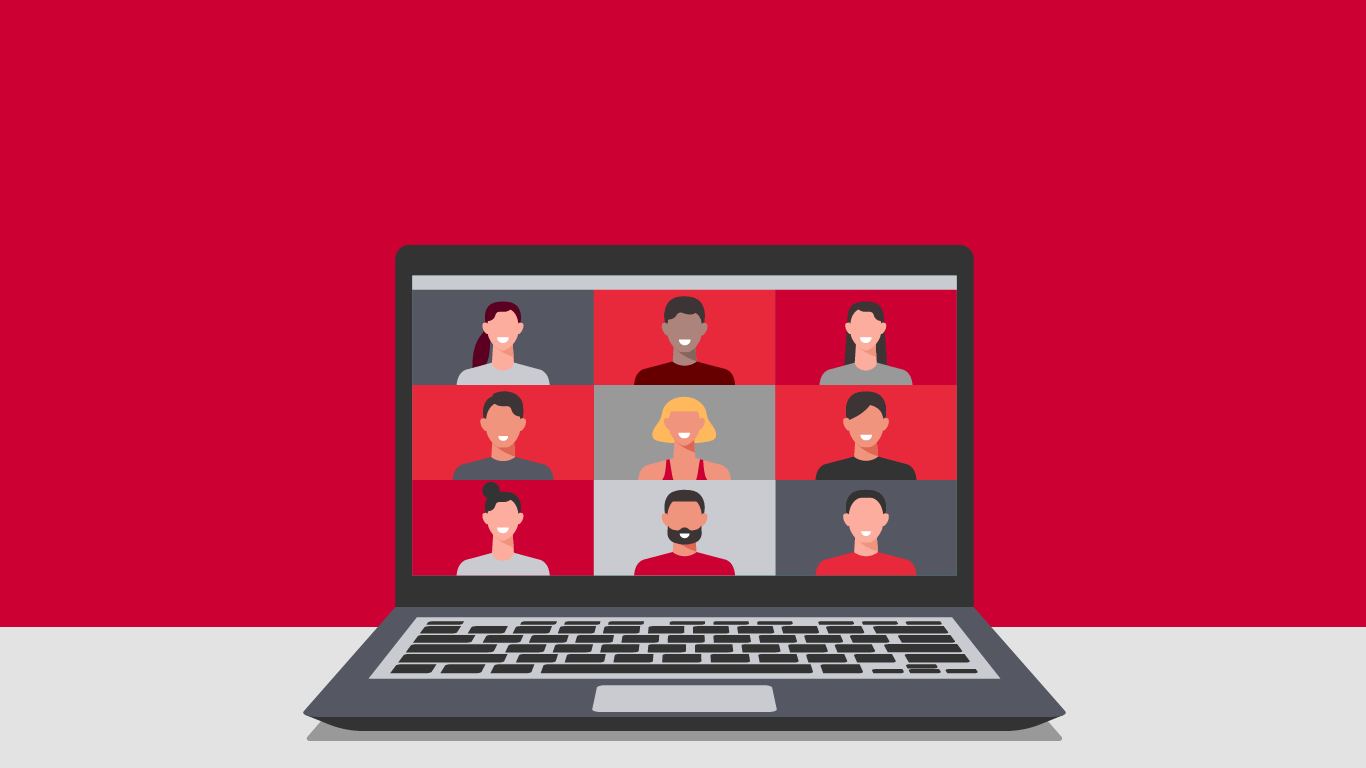 As a result of the global pandemic, video conferencing has exploded over the past year. In fact, Zoom has increased in value by 530% over the last six months. Businesses have heavily relied on technology to run smoothly, but today it's more critical than ever. While businesses adapt to remote work, having the ability to collaborate from anywhere is a must. In our own offices, we use video conferencing technology to connect hundreds of employees across 9 separate locations and broadcast the information they need to know. That being said, it's hard to know which solution is the best, and what the best practices are for hosting or attending a virtual meeting.
The good news is that video conferencing applications are widely available to individuals and organizations of all sizes. Video conferencing is so powerful because it offers face-to-face interaction, even when you can't be in the same room with one another. It also gives you the ability to record your meetings so you can re-watch them later, or make them available to those who couldn't attend the virtual meeting.
The meeting hosts can share the content on their screens so everyone can see what they are looking at, and some solutions even allow you to hand over control of your mouse, which is great for virtual training. The solutions we will discuss below are excellent for both webinars and video conferencing, and allow you to get detailed analytics on the participation and engagement during your meetings. Zoom is perhaps the most widely used solution out there, but it's not your only option. Here are the top video conferencing solutions, let's compare:
Zoom – Zoom is by far the most popular solution out there for both businesses and individuals. It's accessible to anyone and simple to set up and operate and has all of the basic features you would expect. | Free for 100 participants, 40 minute time limit
Google Meet – Formerly Google Hangouts – If you have a Gmail account, you have access to Google Meet. This is a great solution for personal use and community-based collaboration scenarios. It is very simple to set up and operate. | Free up to 99 participants
Microsoft Teams – Replacement to Skype for Business – This video conferencing tool is specifically designed for businesses and is especially good for organizations that already use other Microsoft applications because it seamlessly integrates with their other Microsoft Office applications. | Free for up to 300 participants, no time Limit
GoToMeeting – by LogMeIn – This solution is ideal for businesses already using other LogMeIn Products | $12 per month, up to 150 participants
Webex Meetings – Ideal for businesses that utilize other Cisco products and/or require a solution with a heavy emphasis on security | Free for up to 100 participants, 50 minute time limit
BlueJeans – by Verison Ideal for large enterprises that require a heavy emphasis on security | $9.99 per month, up to 50 participants

Once you find the right application for your video conferencing needs, it's important to know what the best practices are for both participating in, and hosting a meeting.
Best Practices for Attending a Virtual Meeting
#1 Find a Quiet Space
This may be easier said than done, especially if you have kids or pets around, but if you are able to participate in your meeting in a quiet room with a door, that's the best case scenario.
#2 Keep Yourself on Mute Unless You're Talking
This one is such a basic courtesy that it's even becoming second nature to kids doing online school. You don't want to be the reason everyone in your meeting is distracted. Whether there's a lot of background noise in your house or office, or your snacking near your microphone, you don't want everyone to hear that instead of the meeting conversation.
#3 Don't look sloppy, still dress for the meeting
This can be hard when you're working from home. You don't always look your best to work from your home office, but if you know there's a meeting scheduled, put in some effort to look presentable on screen. At the very least, don't make your virtual appearance in pajamas.
#4 Test your audio and video beforehand
Being on time to a meeting, only to have the first 20 minutes dedicated to making everyone's audio/video work correctly is incredibly frustrating.
#5 Don't do anything during the meeting you wouldn't want people to see
You've probably seen quite a few embarrassing virtual meeting gaffes circulating around social media. It can be funny to hear about when it happens to someone else, but would be humiliating if it happened to you. Never assume you're out of view or out of earshot when you're participating in a virtual meeting. Do not do anything during the course of your video conference that you wouldn't feel comfortable doing in front of your co-workers in an office setting.
Are you in charge of hosting the meeting? You have a few responsibilities above and beyond showing up to the meeting. Here are some things you should consider as you plan your virtual meeting:
Best Practices for Hosting a Virtual Meeting
#1 Create an Agenda
Video conferencing can leave people feeling a bit disconnected from one another. As the meeting host, it's your job to facilitate the conversation and keep things moving along by having an agenda. Attending a virtual meeting with no clear agenda or leader is often incredibly awkward.
#2 Sort Out the Technical Aspects Beforehand
You've probably joined a virtual meeting right on time, only to sit and wait for the host to work out some technical kinks for the first several minutes. If you're the host, you should make a habit of getting into your meeting several minutes early so you can ensure your video, sound, lighting, and any on-screen materials you plan to share will work as expected. It's also your responsibility to make sure you know how to use the features of your video conferencing application so you can help other attendees as needed.
#3 Be Punctual
As the host, you should always be the first person in your meeting. Failing to do so is like hosting a party at your home and not being there when your guests arrive.
#4 Eliminate Distractions
If you have a chaotic or cluttered home or office, try adding a virtual background to avoid distracting your attendees. It's also a good idea to try to be in a room with a door, or use head phones with a microphone so there isn't as much background noise.
#5 Start With Introductions
If you have a group of individuals who may not know each other, it's your job to introduce everyone in your meeting before you get into it.
#6 Avoid Dead Air and Interruptions
Don't waste your attendees time by making them wait around in silence. It's also not the time to take an incoming phone call or read new messages. Keep the meeting moving along throughout its duration or you will lose your participants attention.
#7 Encourage Mute
After you get through with your introductions, and any other necessary housekeeping, ask your participants to mute their microphones unless they are speaking. This will prevent distracting audio interruptions.
We hope this information helps you navigate your new normal and have successful virtual meetings. We offer Microsoft 365, which includes Microsoft Teams, a great solution for video conferencing that we use within our own organization. Our Managed IT Services experts are here to help you implement a virtual collaboration solution.