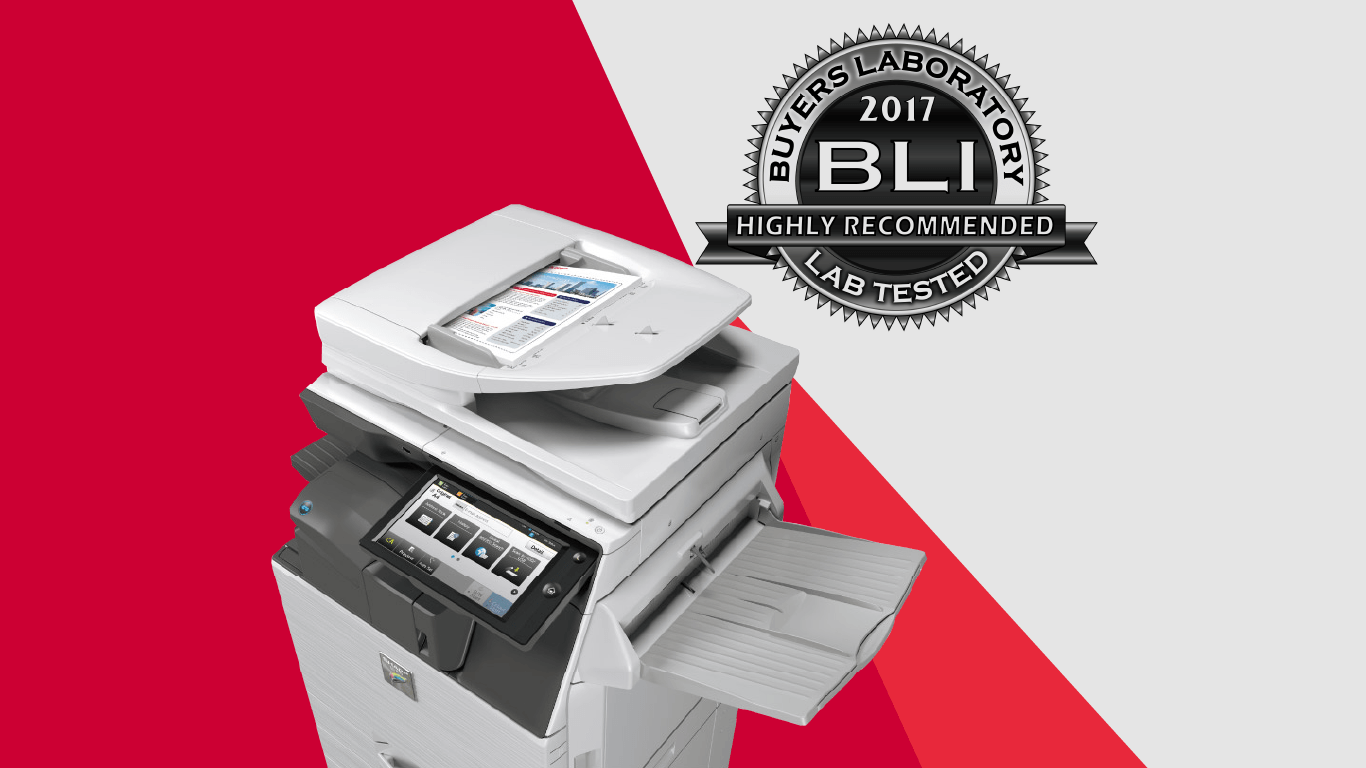 Sharp Imaging and Information Company's new line of MFPs (Color Advanced and Color Essentials) was recently recognized for outstanding quality, reliability, and ease of use by Buyers Laboratory LLC (BLI), the leading independent evaluator of business solutions.
The two most recent lines of Sharp Multi-function Color Copiers, the Color Advanced (advanced, fully featured color copier) and Essentials Series copiers (more basic features come standard) have made a major impression on dealers and customers alike since their launch. In December 2015, the first six models were unveiled at a National Sharp Dealer Meeting in San Antonio, sparking excitement from dealers for their single-engine platform, easy-to-use common interface, and common toner supplies across the line. The release of four additional models followed closely, and available output speeds for the series now range from 30-60 pages per minute.
Now Sharp has earned 10 Highly Recommended ratings from Buyers Laboratory LLC (BLI). A "Highly Recommended" rating is the highest mark a product can receive from BLI, and one of the most prestigious industry recommendations. Sharp received this rating for all 10 of its Advanced and Essentials color workgroup copiers. George Mikolay, BLI's Senior Editor for A3 MFPs said of the recommendation, "Sharp's new Color Advanced and Essentials Series easily earned BLI's Highly Recommended rating, proving highly reliable throughout our rigorous testing."
Sharp designed their Color Advanced Series and color Essentials Series copiers with end users in mind, enabling them to easily improve workflow with features like an intuitive touchscreen display with quick-access functions, integrated mobile print technologies, and Sharp's advanced security features.
"Sharp is proud to receive the Highly Recommended rating from BLI for outstanding MFP performance of our new A3 line," said Shane Coffey, Associate Vice President, Hardware Product Management, Sharp Imaging and Information Company of America. "We are constantly striving to enhance our R&D to provide customers with industry leading productivity and reliability. This recognition from BLI re-affirms our commitment to that goal."
Sharp's Advanced Series includes the MX-3070N/3570N/4070N/5070N/6070N document systems, and their Essentials Series includes the MX-3050N/3550N/4050N/5050N/6050N document systems.
Ready for an upgrade? Sharp Advanced and Essential Series Color Copiers come "Highly Recommended"!
Get a Demo or Quote on a Sharp Advanced or Essential Series Copier