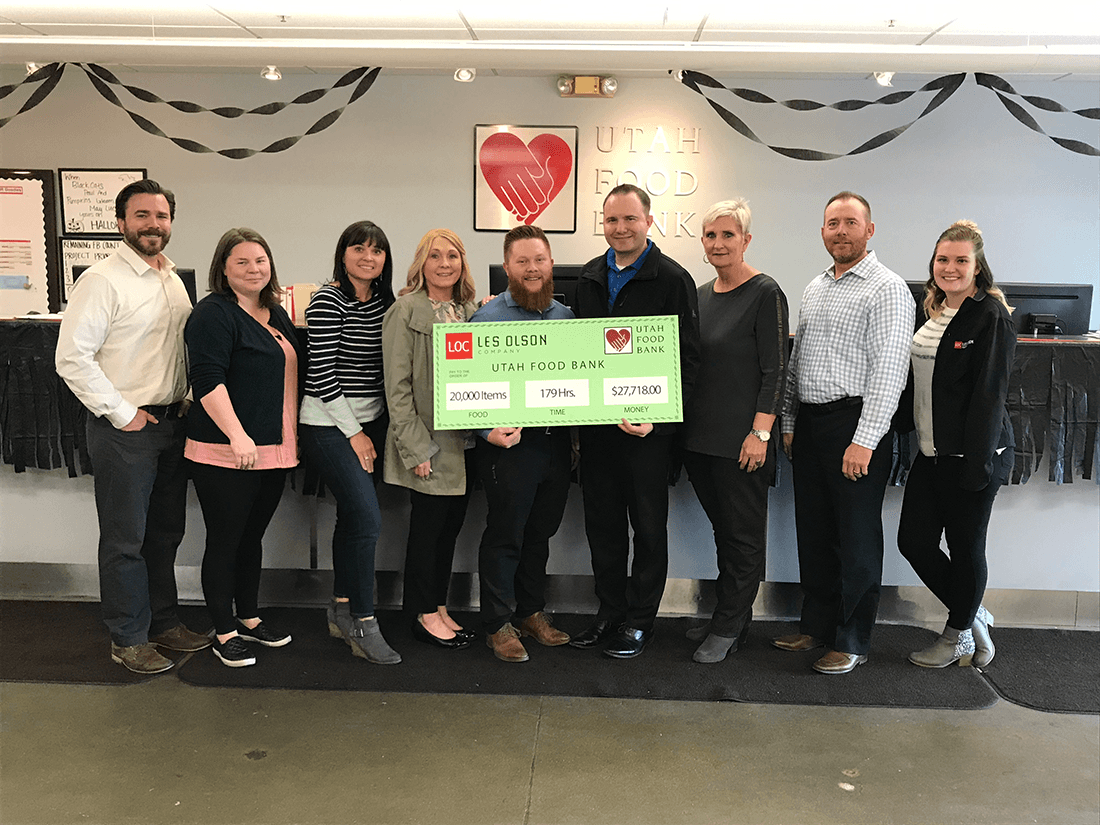 Throughout the year, the Utah Food Bank receives donations from hundreds of food and fund drives hosted by various organizations, and by individuals who want to give back to the community. Because of the generosity of these businesses and individuals, the Utah Food Bank is able purchase food to distribute to pantries throughout Utah and even Mobile Pantry Trucks, which bring lots of fresh food to areas under served by traditional food pantries.
Since 2011, Les Olson Company has been hosting food and fund drives to help support the Utah Food Bank, and has been the official sponsor of the Summer Business Food and Fund Drive for several years. We also send volunteers to hand out food to elementary school students and their families at one of their Mobile Pantry trucks on a monthly basis. The Summer Food and Fund drive is a great time for our company and employees to show their generosity by donating food, money, and time by by volunteering at the Utah Food Bank Warehouse, Mobile Pantry, and delivering food boxes to senior citizens.
Our Las Vegas team has also been a long-time supporter of Three Square Food Bank in Las Vegas, in order to keep their donations local to Nevada. Our amazing employees and their families donated over 20,000 food items, $27,000 dollars, and volunteered a collective 179 hours. Did you know that food pantries can take a dollar that is donated, and turn it into $7.34 of food and services for those in need? Through the buying power of food pantries that means nearly $200,000 worth of food was purchased through the cash donations made by Les Olson Company Employees this summer.
This was a great experience for us to see and to interact with many kids and their families who benefit from Utah Food Bank and Three Square's efforts. We at Les Olson Company believe that no kid should feel unsure about where their next meal will come from. We are proud to support the Utah Food Bank and Three Square's activities, and encourage any business or individual to donate and give a helping hand, so together we can have a bigger impact in our community.