Does Managed Print Services really save businesses money?
Let's take a look at two businesses. One is on an MPS (Managed Print Services) plan and the other is not. The company without MPS purchases re-manufactured* toner cartridges to save money. Let's say this toner costs $100, yields 2,500 pages, and the toner on each black & white print covers 5% of the page; they pay 4 cents per page. A black & white print with 20% toner coverage costs them 16 cents! Any maintenance or service required is an additional cost.
Meanwhile, the company on the MPS plan doesn't worry about yields or toner coverage, instead, they pay a flat rate of 2 cents** per black & white page with maintenance and repairs covered at no additional cost.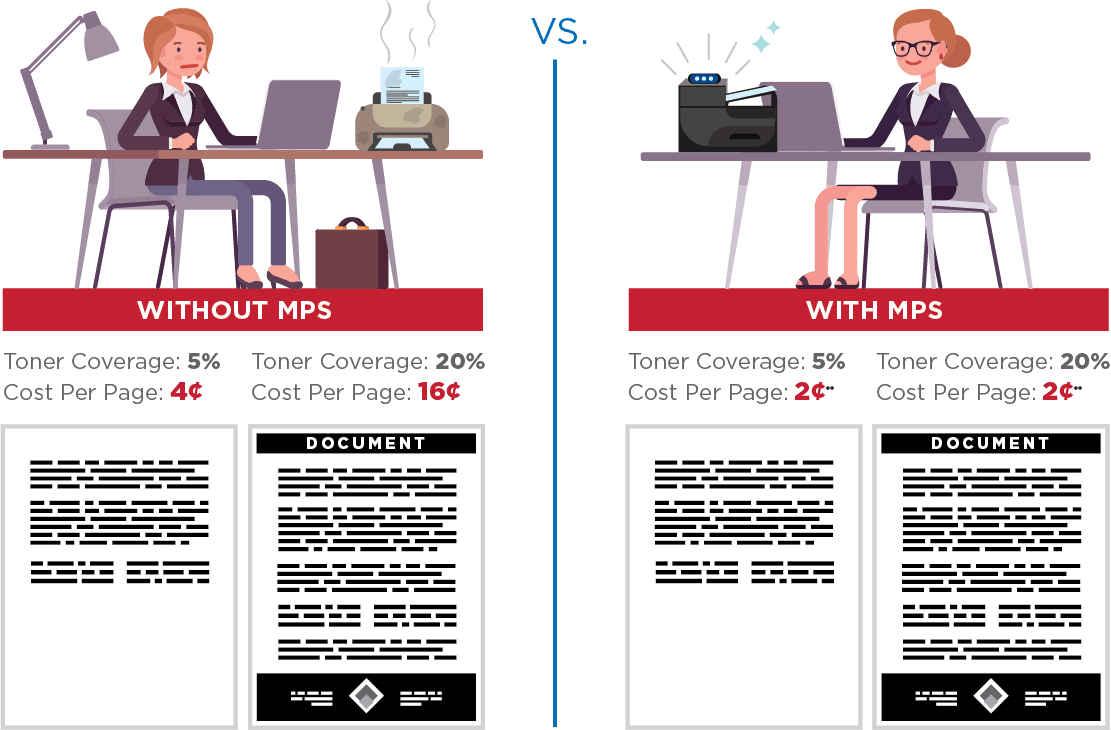 Do you know how much your printer fleet is really costing your business?
A recent study showed that 80% of businesses are unable to accurately measure printing costs. Let us provide you with a comprehensive fleet management strategy, designed specifically for your business. We will not only help free up more time to focus on running your business; but can also drastically reduce your printing costs.
Through Managed Print Services, we work closely with you to ensure enhanced performance and efficiency, all while reducing costs and increasing your return on investment.
A Business Without Managed Print Services (MPS)
Worries about having sufficient backup toners
Spends time purchasing toners & creating purchase orders
Spends time managing/organizing a toner supply closet
Purchases high cost-per-page & inefficient printers
Makes time consuming arrangements for repairs
Calls different repair technicians for each brand of printer
Waits 1-5 business days for repairs
Can incur costs from 3rd party I.T. providers for help with printing issues
Spends up to 30% more for the same fleet of printers
What Does Les Olson Company's MPS Plan Include?
Proactively restocks toner
Organizes and maintains your toner closet for you
Provides appropriate printer recommendations
Arrives within 4 hours for repairs
Services most brands of printers
Provides I.T. support for printers
Provides free printer loaners
Provides useful quarterly reports for your printer fleet
Saves you up to 30% on printing expenses and allows you to spend more time managing your business
*Low quality prints may result from usings re-manufactured toner cartridges and may also void printer warranties.
**Cost Per Print rates may vary by printer model.