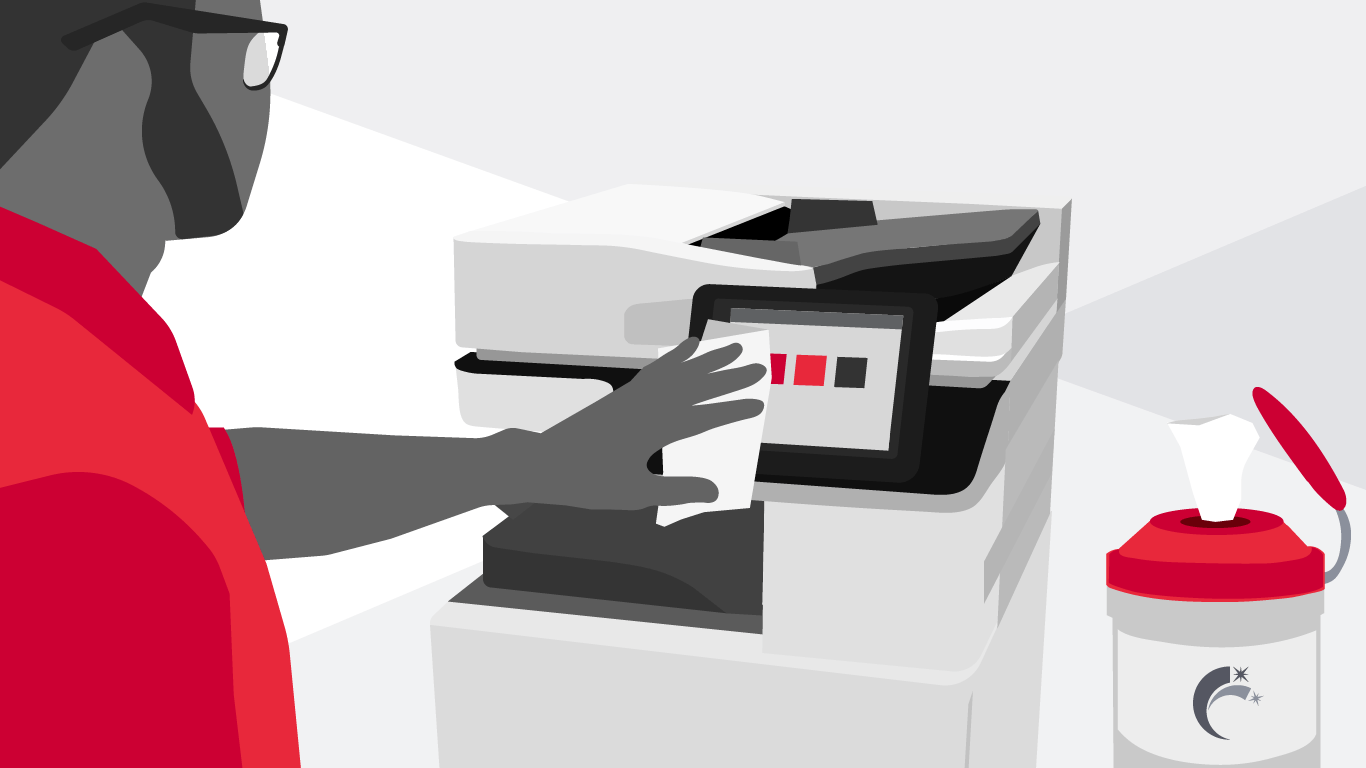 With the threat of Coronavirus looming, many offices are taking extra precautions to sanitize commonly-touched surfaces, like door handles. This is a great step in the right direction, but most businesses are overlooking some of their most touched surfaces – shared computers, displays, copiers, and accessories.
HP has recently developed a set of recommendations with a team of board-certified infection preventionists to disinfect office equipment and devices to tamp down potential pathogen transmission. These devices in your office are valuable tools for accessing and transmitting data, however disinfecting these devices is now an important component of environmental hygiene for infection prevention. Your organization should come up with a clear plan for routine cleaning and disinfection of the devices and accessories. Clearly communicate who is responsible for these tasks, and provide the appropriate training.
General Guidelines:
Presaturated disinfecting wipes are recommended for cleaning, rather than spray-on disinfectants applied to a cloth, to avoid dripping of the solution into the ventilation or other points of ingress, which can damage the equipment.
Fibrous materials like paper towels and cloths should not be used for cleaning and disinfection of the equipment to avoid scratching the displays.
The use of keyboard covers does not replace the need for cleaning and disinfection.
Routine cleaning and disinfection of the computers and displays should start with the top of the display monitor, proceed to accessories, and finish with the cables. Routine cleaning and disinfection of the copiers and printers should start with the top of the control panel and finish with the keyboard. Ensure that disinfecting wipes remain wet during the entire application.
Turn off the equipment to avoid electrical shock or damage to the components.
Encourage use of equipment with clean hands.
Cleaning
If the equipment or device is visibly soiled, it should be cleaned following these steps, prior to disinfection.
Perform hand hygiene
Remove soil from the device or accessory with disinfecting wipe or a water-dampened cloth (microfiber, chambois, or static-free cloth recommended)
Allow device to air dry.
Disinfecting
Perform hand hygiene.
Disinfect all exposed surfaces of the computer and display, including the accessories.
Disinfect the surface of the control panel and keyboard of the copier or printer.
Ensure that the disinfecting wipe remains wet during this entire process, replacing if necessary.
Ensure that the surfaces remain treated with the disinfectant for the contact time specified by the manufacturer of the disinfecting wipes.
Allow to air dry.
Perform hand hygiene.
Frequency
Routine disinfection of devices and accessories should be performed daily.
Types of Wipes
We hope this information helps you in your efforts to keep everyone in your office healthy. If you have any questions about the right kinds of cloths and cleaning supplies for your office equipment, contact us.