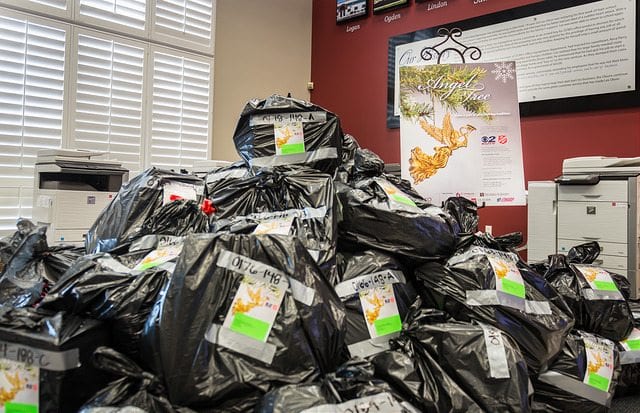 From the beginning, Les Olson Company has fostered a culture of stewardship for the communities we all live and work in. Throughout the year of 2013, there have been many opportunities for those of us within the company to give back in all sorts of ways – from sponsoring the Utah Food Bank's Summer Business Food Drive to giving Business Students from the U of U an inside look at how we run our business. This year has been an especially charitable one (see all of our community involvement) and we're extremely proud of our employees for participating in such meaningful ways during this season of giving.
It's particularly rewarding to give back to others during the Holiday Season, perhaps because it's the time of year when we're all reminded of how much we have and how lucky we are. This is the second year that the company has sponsored the Salvation Army's Angel Tree Program in partnership with KUTV, with employees in our Wasatch Front branches, volunteering as well as donating money and adopting angels. Our Las Vegas employees teamed up to "adopt a family" through Catholic Charities and a large majority of the company's male employees participated in "Novembeard," growing their beards out in the month of November and making donations toward relief for people in the Philippines following the hurricane.
One employee in our Lindon branch, along with the people in his neighborhood, collected $900 which was enough money to provide gifts for 14 angels from the tree. On the last days of the Angel Tree promotion, one salesperson in the Lindon branch adopted the two remaining angels from their tree, shopped for them and returned their gifts just as the donations were being picked up. At the end of the last day, there were still 13 angels that had not been selected, luckily an anonymous donor within our company volunteered to provide the funds to shop for the remaining angels requesting only that others assist in picking out their gifts. Within minutes of this announcement, we had many more volunteers than needed.
There were a total of 121 angels adopted by Les Olson employees. That's 121 Utah children who had the joy that comes with opening presents on Christmas morning and many parents freed from the worry of not being able to come through with gifts for their children to unwrap. In addition, our employees were able to donate $257 to the Angel Tree Program to assist them in purchasing gifts for the angels that were not adopted by individuals. One thing that particularly stood out were the employees who brought their children into the office to pick an angel from the tree, usually choosing to shop for a child of the same age.
Many employees volunteered to assist the Angel Tree in selecting gifts to go to angels that had not yet been adopted, as well as sorting gifts that had been donated.The sorting took place at the Utah State Fairgrounds in a huge building filled with warm coats and socks, toys, games and books for children whose families were struggling. Some employees were also able to bring their children.
"We truly appreciate the opportunity that our family had to participate in the Angel Tree program again this year. It was fun to shop for these kids and a wonderful experience for our children to be able to go sort and pick out the gifts at the warehouse for those in need. This is an act of service that they will always remember. It helps all of us recognize how blessed we are." said Aimee Bowers, an employee in our Lindon branch.
The team in our Las Vegas branch was also able to spread Christmas cheer by sponsoring a family's Christmas through the Catholic Charities. Las Vegas Receptionist, Natasha Warren, wrote the following about their experience –
"As you all know, we were most recently given an amazing opportunity this Holiday Season. We were able to help a family in need. We supplied necessities and gifts for a wonderful family of five through the Adopt-A-Family program hosted by Catholic Charities.
"Generally, as a branch, we host a Secret-Santa gift exchange, but this year we wanted to extend ourselves beyond our own needs and needless to say, this whole experience was incredible. As soon as the first e-mail was sent out explaining everything, tons of people were asking where the ornaments were and how they could get involved. Seeing the joy and generosity freely given by each employee was just awesome!"