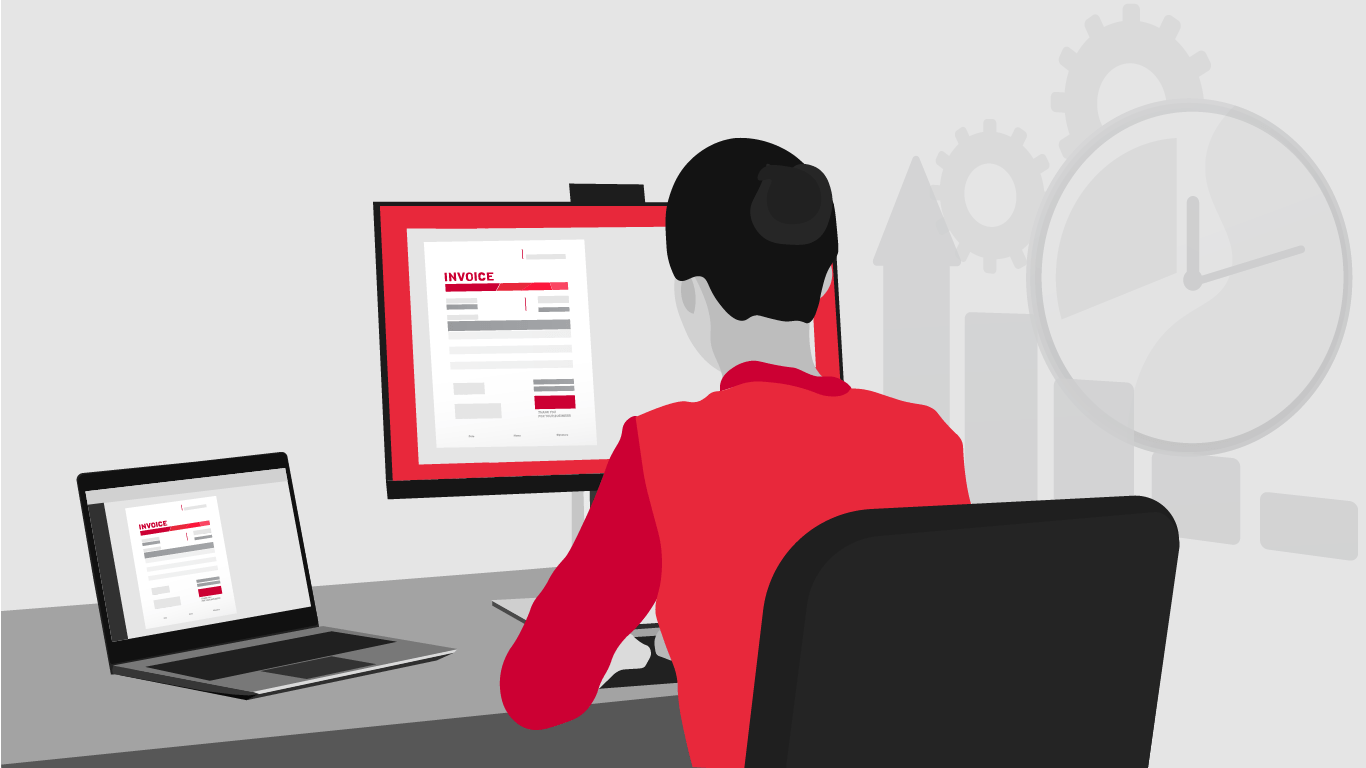 Accounts Payable can become more efficient by digitizing existing paperwork. DocuWare has features that allows businesses to automatically receive invoices and extract data for processing, helping AP to break free from paper and manual data entry. Businesses that are still stuck in their paper processes and manual workflows are being hit the hardest by COVID-19. The biggest flaw of their workflows are being exposed – they can't be easily performed from anywhere.
Additionally, as we learn more about this virus, we now know that it can live on surfaces for a matter of days. Co-workers can keep their distance in the office, but paper documents changing hands still creates a risk. The fact is, there's no reason for this risk, given the technology that exists today, and the ability to take documents completely digital. Not only does digitizing your document workflow protect the health of your team, it also optimizes your business and improves your processes. In this article, we'll look specifically at the benefits of Document Management for invoice processing.
Do Keep Digital Documents Digital
It's more common than you'd think for people to receive documents and invoices through email, only to print them off, then scan their paper version back into digital form to be filed somewhere on their computer. We recommend keeping any digital documents you receive digital, and not unnecessarily convert them to paper. This simple change can minimize the potential for human error, and expedite your overall process by eliminating an extra step.
If you are used to handing over a paper document to someone in the office, and are having to adjust your method of transfer, consider these methods of digitizing your paper documents to email to remote co-workers or contacts:
Stand-alone Scanners
Multi-function Copiers
Fax-to-email
Don't Do Batch Processing
Batch processing can be extremely inefficient for your team. It causes large periods of downtime in between batches, waiting around for the next batch. On the other hand, it also causes periods of crunch time when a batch finally does arrive. Ideally you want to have a consistent workflow process where Accounts Payable is receiving and processing invoices in real time. This creates a steady flow of tasks, rather than an all-or-nothing situation.
How to Strengthen the Complete Invoice Process
1 ) Capture
DocuWare's Intelligent Indexing replaces error-prone and time-consuming data entry by recognizing and recording all the data that is printed on invoices. For example, rather than having invoices come to a personal email address, and having that individual monitor the email for invoices, DocuWare can automatically pull invoices from a dedicated invoicing email address and create tasks for them. This process eliminates the cost of printing, reduces potential for human error, and allows AP to spend less time searching for invoices. This is just one example of how DocuWare can help to eliminate extra steps during the document capture process.
Capture is an important step and shouldn't be neglected. This is the part of the process where your critical information gets into the system. It needs to be done right. Intelligent Indexing utilizes machine learning to scan your documents, and intelligently extract the business-critical information to index into your document management system. This allows DocuWare to automatically index your documents by a variety of data points, including invoice numbers, without any manual data entry.
2 ) Secure Storage
All businesses say that data security is important to them, but you wouldn't know it by the way many actually practice their document storage. There is a surprising volume of sensitive business documents flowing in and out of personal Dropbox, or Google Drive accounts, with no oversight from the organization. Even paper files that are physically stored on premise are often not adequately secured, giving access to anyone who wants them, no matter their intentions.
DocuWare provides a comprehensive means of secure document storage with tools like encryption, passwords, access controls, and more. All invoices are stored within a secure, accessible repository, tightly organized based on captured index data. Access anytime, anywhere, from any device.
3 ) Automated Workflow
Have you ever had a mission-critical business document fly through the workflow process, only to become stuck once it reaches the approval phase? DocuWare helps reduce situations like this with the use of task lists, tied to automated workflows, based on Intelligent Indexing. You can create automatic workflow rules that differ, depending on the content of your documents. For example, you can elect to send invoices under $500 straight to AP to be processed, and invoices over that amount to a CFO for approval before paying. All the while, a designated user can monitor the tasks to ensure they are being completed.
Digitally route invoices through approval chains for faster decision making, or initiate a straight-through approval, based on your predefined business rules. DocuWare also allows for greater insight into where exactly any given invoice lies in the process, so you never have to wonder what its status is. If there's an issue causing that invoice to stall, you will know exactly why, so you'll be able to address it.
Whatever you choose to do, just start somewhere. There's no need to overhaul everything overnight. Simply digitizing your paper documents is a huge step in the right direction, you can always add more sophisticated workflows down the line. DocuWare is an ideal solution to make your documents available to your employees, especially while they are working remotely. All they need is an internet connection, a computer or mobile device, and the PaperScan App if they need to scan documents from home and don't have a scanner. It can really help to get everyone on the same page by streamlining your workflow, and mitigate the issues caused by differences in technology available to them at home.
With DocuWare, you can:
Extract details from invoices, easily enter your GL accounts and cost centers
Remove manual touch with automatic approvals, based on vendor-related QuickMatch or 3-way match
Route invoice approval requests based on amounts, vendor name or cost centers, including multi-levels
Automate the vendor on-boarding process
Generate transaction records for your ERP system, eliminating double data entry and greatly reducing errors
Eliminate searching for purchase orders, shipping documents and information necessary for processing
Maintain compliance and a complete audit trail with transparent approval history